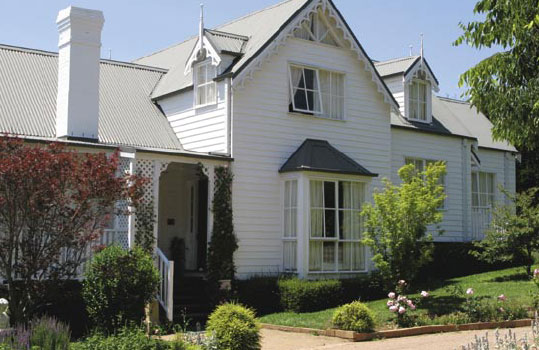 "European objects decorated with Chinese motifs" is how Chris Styles and Dominic Wong describe Chinoiserie, and it is the beautiful decorating technique that they have incorporated into their home and B&B at Mittagong in the Southern Highlands. Their home, a Storybook Cottage design they had built on their vacant block of land in the late 1990s, has loads of old-world features including decorative barge boards, dormer windows and a timeless verandah that allows it to blend in with the surroundings as if it has been there forever.
It sits on almost one-and-a-quarter acres with the B&B attached, allowing Chris and Dominic to cater easily for guests' needs — when Dominic is not hard at work in the extensive gardens, that is. Gardens include herbaceous borders, a pond and stream garden, a potager garden and an incredible collection of American, Chinese, Japanese and European tree peonies, which are stunning when at their peak in October and November. The astonishing thing about the gardens is that they were only planted at the end of 1998. Before that, the property was completely bare and it has been Dominic's hard work that has transformed the area into an Eden.
"Dominic spends more than 30 hours each week in the garden, tending to the plantings, weeding, dead-heading flowers, watering and potting up plants for sale," says Chris. "A flower garden does involve a fair amount of maintenance and Dominic does not have any help at all except for the mowing and edging.
"In Chinese culture, the peony is regarded as the regal flower that represents hierarchy, feminine beauty and wealth. It is also the national flower of China. Since not many gardeners choose to grow peonies, nor have the knowledge of how to grow them, Dominic decided to specialise in growing them so that people can enjoy these flowers when they come to visit, especially on the garden open days we have.
"To have a garden like this you need to have commitment and passion, a good eye for contrasts, textures and colour combinations as well as knowledge of what works in the local area, for example the soil type and quality, the amount of sun the garden receives and a good knowledge of where to put the plants, such as in sun or shade."
A favourite room from which to view the garden is the dining room as it's on a higher elevation and you can see the outline of all the garden beds, which suggest a parterre design. This was purposely created so the guests would have the best view of the garden while eating breakfast.
The Chinoiserie decorating style in the home has allowed Dominic and Chris to combine their love of European furniture pieces with Chinese influences such as the bedside tables in the B&B rooms. These are in the Chippendale style and have been decorated with Chinese fretwork and Dominic is always on the hunt for more items to continue this look throughout the home.
"Dominic chose this English cottage style of decorating because it never dates and gives the interior a homely feel," says Chris. "He lived in England for two years and stayed in a lot of English homes and found that they have a certain décor about them that gives them a warm and cosy feel.
"In our home and B&B we have used themes in the rooms. For example, the living room that overlooks the garden has a floral theme. We've used roses and prints on sofas, curtains, paintings and lampshades; however, not in the same material or it would be overpowering. We then accessorised with objects that carry a rose motif. Most of our furniture is mahogany, which as most people know is a dark wood, so Dominic chose a warm, 'buttery' colour for the walls to brighten up the room. A darker wall would be too gloomy."
Dominic is a practising Buddhist and hairdresser by trade, something he still does a little of each week and this may explain his flair for fashion, colour and decorating. He has had an interest in gardening since his youth and loves to collect items adorned with peonies. Chris is still working full-time and with retirement looming may soon have time to spend on one of his other passions: music. He presents a weekly programme on community radio covering theatre organ music and also plays keyboard himself, as well as helping to care for local senior citizens.
"The Southern Highlands has four distinct seasons," says Chris. "In October, visitors come for the peonies; in November for the roses and perennials, which are at their peak at that time; and in autumn for the autumn foliage and late summer perennials. I remember one visitor to our garden when leaving told Dominic one of his trees was badly diseased and pointed it out to him. Dominic had to tell her that it was not actually a disease but lichen growing on the tree. Lichen will only grow on trees if the air is clean and that's why you don't see it on trees in our polluted capital cities. The visitor was quite surprised on learning this as she did not know about lichen."
Running the B&B and caring for the gardens is hard work but rewarding, as Dominic and Chris admit to having delightful regular guests as well as new visitors to the area who come for a variety of reasons. These could include attending a wedding, to enjoy local events such as the Jazz Festival, Polocrosse tournament, Tulip Time, A Day on the Green concert or to simply see the Southern Highlands in all its beauty.
There are few places more beautiful in the Southern Highlands than the Chinoiserie and its stunning gardens. If you are planning a weekend break or are travelling through Mittagong towards the end of the year, why not allow a few hours to stop and stroll through Chris and Dominic's wonderful gardens and maybe purchase a peony to plant to remind you of the experience?
For further information or to make a booking at the Chinoiserie, phone Chris or Dominic on (02) 4872 3003 or visit
www.highlandsnsw.com.au/chinoiserie