Transforming kitchens to an idyllic space of convenience and beauty.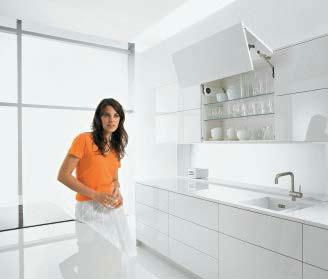 Effortlessly Efficient: 
High kitchen cupboards are one of those niggling frustrations in any home. Open doors can get in the way or you may have to hold them open while trying to grasp contents without knocking other objects over. That is, until now. Blum's electrical-lift systems remove the struggle
Blum SERVO-DRIVE for AVENTOS lift systems open with a simple touch and close again with the push of a discreet button. The system provides kitchen users with easy access to their cupboards but the ground-breaking efficiency is hidden in the details.
• Silent and effortless closing at the push of a button
• Sensor to stop motion if something blocks path when door is closing
• Manual opening and closing available (in case of power failure)
• Synchronisation available for joined cabinets
• Collision avoidance function for adjacent corner cupboards
• Bifolding or swivelling doors available for minimal overhead space requirement
Beautiful Inside & Out: The finishes in kicthens are ever changing and we are constantly looking for new ways in which to express ourselves. Tandembox Intivo from Blum can transform the inside of the kitchen to match the outside, or make a statement all of its own. 
Create a distinctive combination in your kitchen with Blum's Tandembox Intivo, a collection of interesting pullouts to inspire and stimulate individual design. They are hidden while your drawers are closed and bring your kitchen to life when open. The specially developed drawer sides can be combined with the three core finishes (silk white, terra black and stainless steel) and offer endless possibilities with the Boxcover design elements. Design elements can be fashioned from any desired material, including wood, glass, leather and stone, which is just a start. The combinations are seemingly infinite and results are very striking. They speak for themselves.