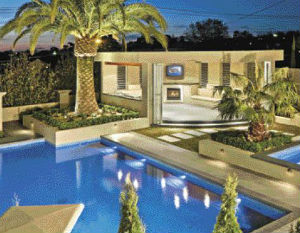 Well-appointed and furnished with flair, the outdoor room is a place to relax or entertain
Story: Dean Boone
Photos: Patrick Redmond
A garden used just to be something to look at. Yes, it had to be practical — after all, we needed somewhere we could grow some vegies, dry the clothes, store firewood, and wash the dog — but we mainly expected our gardens just to be pretty. How things have changed.
Today, we regard our gardens, courtyards, decks and balconies as outdoor living areas. More than this, we talk about creating outdoor rooms in which we can relax, entertain, cook, eat or watch the latest DVD. It's become a commonplace term, but what exactly is an outdoor room?
Put simply, it's what it sounds like — an extra room. It might be a cabana by the pool or a pergola attached to the back of the house. It might even be a covered deck or a thatched gazebo at the bottom of the garden, but whatever form it takes, it's a space that has been designed, equipped and furnished to be lived in and enjoyed.
The outdoor room is a real living room and it's become the new centre of the home. It's inviting, comfortable and definitely not a place of work. In fact, quite the opposite is true. The outdoor room is a place of rest. It's somewhere you can entertain friends or relax with the family. It's a place to have fun and, if designed well, can accommodate all your recreational needs.
As with any interior room, an outdoor room will only be used and enjoyed if it meets your lifestyle needs, is well-appointed and the look and feel is in keeping with its purpose and the style of your home.
When you create an outdoor living space that's functional, stylish and connects to the architectural style and interior décor of your home, you are well on your way to creating the ideal outdoor room. The best designed spaces, whether a landscaped garden or a dining pavilion, look as if they have always been there. Done well, your outdoor room will look as if it was meant to be, not and add-on or an afterthought. This is where professional design and construction advice is invaluable.
Garden design has taken on a strong architectural role in this new millennium. Today,asking for flat-screen televisions, a great sound system, sophisticated lighting, bar fridges, ceiling fans, wall-mounted radiant heaters, automated retractable awnings or louvre roofing systems and just about anything else you can imagine.
Of course, comfortable outdoor living spaces and great furniture go hand-in-hand. If you're going to spend most of your R&R time in your outdoor room, it makes sense to choose some seriously good-looking furniture. Natural materials and woven outdoor furniture are my choices with chocolate and coffee tones perhaps the most popular at the moment.
The great thing about favouring neutral or natural tones is they can always be made to look fresh and new again by accessorising with cushions in the current season's colours. At present, orange accents are in vogue, but if you really want to know what's in for indoor and outdoor decorating, take a look at the Dulux colour trend predictions — this company never misses a beat.
The best advice I can give you about creating your outdoor room is to seek professional advice. It's the only way to get the very best results because landscape designers know all kinds ofgarden designers work more closely with architects to devise ways of extending your living space into the outdoor spaces surrounding your home and garden designers must have a strong knowledge of structural matters.
Understanding the building we are designing around and how to connect the outdoor spaces to it is an important step in getting things looking right. This, I think, is the secret to the emerging popularity of the outdoor room. We've all become much more adept at creating clearly defined yet integrated outdoor living areas and structures that feel like part of your home, even if they are located down the back, by the pool or up on the roof.
Of course, giving an outdoor room a look that's effortlessly elegant and ensuring a simple, seamless connection with your home requires more effort than the end result betrays. This is always the way with good design.
To achieve this, the rule of thumb I always follow is that function and form must come together with neither one dominating the other. If you first make your space functional and give it great form, you will create something that will never go out of fashion.
There can be a temptation to overdo things when furnishing an outdoor room and, when you consider the amazing array of designer outdoor furniture, décor, lighting and audio-visual gadgetry around, not to mention outdoor kitchens with all the bells and whistles — it's a temptation that's hard to resist.
While there's nothing wrong with wanting your outdoor room to have the "wow factor", keeping things simple and including only those features that you know you will use is sometimes better. If the room is tailored to your lifestyle needs (be they extravagant or restrained), you will have a space that will be used frequently and with genuine pleasure.
That said, the current trend in outdoor rooms is to incorporate the latest technology and equipment — just like we do in our interior living and family rooms. In doing so, we can create an outdoor lounge room, dining area, kitchen and home entertainment zone all rolled into one. Increasingly, people are tricks and techniques to maximise and connect spaces. They know how to extend the roof lines of your house out into the garden to provide shade and an integrated look for your outdoor room, how to link internal and external flooring, and how to implement a lighting scheme that focuses on effect not the fittings.
Every home is different, as is every family. While we all may need more time to relax, how we choose to spend our leisure time will differ. The most important rule is to create an outdoor room that meets your family's needs, that feels comfortable and that fits with both the architecture of your home and the style of landscaping.
Often, keeping it simple is the best way to go but this doesn't mean you need to forgo all those gadgets and the latest technology if you are that way inclined. Just plan ahead (for things like cabling, switching and power points) so it can be updated as needed. For the best results with things electrical (such as lighting and audio-visual systems) consulting the specialists is a good idea.
Don't forget, however, that it's not all about the structural elements such as paving, walls and bench space. You still need to have real greenery in your outdoor room to make it work. Plants bring it all together, provide depth and screening and add a waft of night-time scent and colour just when you need it.
Trees for shade will cool the temperature down and variegated foliage plants for all year interest are a great choice. A splash of flower colour never goes astray and I like mine to be in bold and brilliant colour.
You also want to create pleasing views to contemplate from your outdoor room. This might be a feature plant at the end of a pathway, potted and up-lit, or a water feature integrated into a nearby corner of the garden.
The goal of the outdoor room is to integrate the house with the garden. Sometimes, it's the main transition point between your home and your outdoor space. With the right approach to planting, design and decoration, you can make it somewhere you'll want to be, day or night, summer or winter.
Dean Boone is the vice president of the Australian Institute of Landscape Designers & Managers and director of distinctive.