A modern, minimalist look fuses with this home's Victorian design.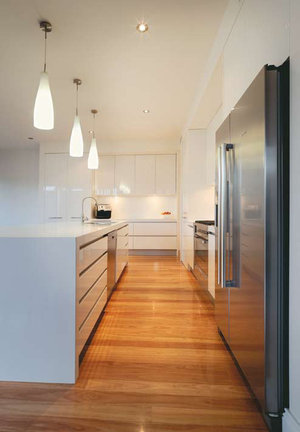 Milan Cabinetmakers, a specialist in residential joinery, was assigned the job of reviving this Victorian-style home in Melbourne. The original three-bedroom dwelling with old semi-attached kitchen and living area was the subject of a major renovation. The design brief was simple: a clean, seamless design that would cater for a family and complement the Victorian era while following a modern approach.
"Architecturally designed, this contemporary home catered to the heritage overlay, blending the old house with some new additions," says Steven Milan, of Milan Cabinetmakers. For the kitchen, the need to utilise space was an important element in the design process. A hidden pantry was worked into the kitchen design. A Blum soft-close system was installed, in addition to stainless-steel inserts in the cabinetry, creating a flawless appeal. The pantry was a design must for the client, who disliked clutter in their modern home. As the owners enjoyed entertaining, the freezer was added to the butler pantry. Also in the chef's corner, the large sink and stone benchtops further highlight the external kitchen. For the cabinetry, the look had to be similar in style but function differently in each room. A two-pack gloss finish was chosen for the kitchen and two-pack satin for the bathrooms. All the cabinetry and internal storage space was built by Milan Cabinetmakers, configuring each to suit the client's individual needs. The company built a hidden internal desk into the kitchen for a computer, allowing the kids to utilise this space as well as the adults.
Milan Cabinetmakers was involved from the onset of the home's construction, working closely with the client to understand their vision and requirements and focusing on one room at a time. The design of the kitchen, which comprised the pantry, internal Blum systems and an assurance its overall quality finish catered to the family's requirements, was just the first step. From here, the storage in the living area, not to mention the TV cabinetry and shelving, was made to blend in with the kitchen design's look and feel. 
All in all, renovations to the two-storey home were a success. The body of work for the upstairs included two bedrooms, the double-vanity bathroom for the children, and a living area with plenty of storage space. The downstairs involved the living, kitchen, pantry, three bedrooms, ensuite and powder room. Together, the old and new elements blend seamlessly. It's Milan Cabinetmakers' hands-on approach, attention to detail and impressive craftsmanship that has made all the difference to the home's interior.
Milan Cabinetmakers,
Unit 2, 8-20 Brock Street, Thomastown, VIC, 3074. 
03 9465 3633
sales@milancabinetmakers.com.au