Enjoy the timeless beauty of European design combined with traditional craftsmanship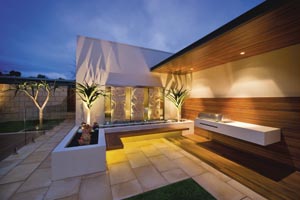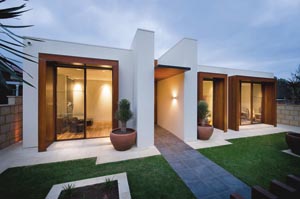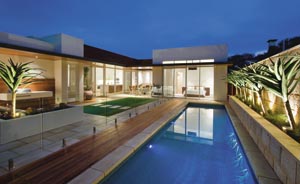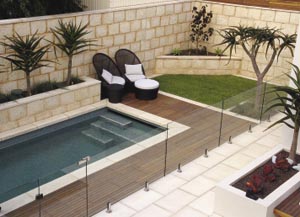 Traditional European handmade craftsmanship is renowned — and prized — the world over for its quality. Maison (A European Design) is delivering that same high standard of European craftsmanship to Australian homeowners and commercial clients through its boutique collection of handmade reconstituted sandstone products (large-format pavers, pool coping, columns, retaining wall blocks) and landscape supplies.
While the diversity of its range is one reason for Maison's ever-increasing popularity, it is the quality of the product itself that is the biggest attractor. The sand used in the creation of the range is sourced from a natural spring on the Fleurieu Peninsula in South Australia, which enables the production of a salt-free product. Other benefits include the fact that the paving is cool underfoot (even on the hottest day) and non-slip (due to the natural, grainy texture). Also, the entire product range will not fade, bleach or go dull and powdery over time as concrete has a tendency to do.
Aimed at the discerning homeowner, the Maison range is constantly expanding and evolving. One of the most recent additions to the range is limestone-look reconstituted blocks, available in either quarry-cut or smooth finish. Unlike the natural version, they will not attract mould or crumble, are lighter in weight, are "hollowed" so they can be used for retaining walls, and can be cleaned either with chemicals or under high pressure.
Maison has also introduced new profile pool coping (pictured): square-edge 85mm to 50mm rebated coping plus a 50mm pencil-line coping created for curved pools. These join Maison's 50mm bullnose (standard), 70mm bullnose/scotia and 50mm square-edge products, bringing the range of coping styles to five.
As you would expect, the range of Maison hardscaping products is extensive. Pictured here, you can see 750mm x 500mm square-edge pavers, 500mm x 350mm x 240mm quarry blocks, 1000mm x 300mm square-edge wall capping, and 1000mm x 400mm x 85mm rebated pool coping, representing just a taste of the full Maison menu.
Maison offers more than paving and walling products, however. It has a full selection of outdoor accessories that includes decorative ironwork, furniture, pots and urns, water features, sculpture, and now exotic trees and plants (pictured). Maison is also a representative for Herma outdoor LCD TVs, Regal Grass (a quality artificial turf product) and frameless glass pool fencing, providing its clients with an even more comprehensive range.
Maison products are available Australia-wide. For details of your nearest distributor, visit the Maison website.