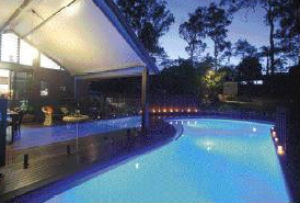 Enjoy the full resort living experience in the comfort of your own backyard
No longer are we willing to wait for our annual holiday to enjoy the resort experience. Instead, we are incorporating resort-style elements into the design of our swimming pools, which means the inclusion of a poolside room where we can unwind or share a relaxed meal with friends. In short, we've decided to spoil ourselves and enjoy the many pleasures of resort-style living all year round — right in our own backyards.
Constructed by Summit Pools to a design by company owner Darren Evans, this pool, which is overlooked by a spacious outdoor room, is a stunning example of resort-style design. The look is luxurious, the ambience is relaxed and the setting inviting, day and night.
"The brief from the owners was to design a pool to complement the resort style of their home. The design needed to be stylish but have a relaxed feel about it," explains Darren.
It was also important that the pool, outdoor room and house be well integrated, one seamlessly flowing into the other. Key to creating this sense of cohesion and connection is a water feature that wends its way from the front door of the home to the pool area at the rear.
The sinuous shape of the pool adds to the luxury look and feel. This is emphasised by the granite cobble tile, specially designed and manufactured for the pool and used for the pool coping and surrounds. The granite tile wraps around the curved perimeter of the pool, stopping as it nears the covered deck. Here, there is a curved timber path that flows around the water feature (a tranquil pond complete with underwater lighting and aquatic plants) and matches the timber decking used for the outdoor room.
To make the pool area feel open, Summit Pools used frameless glass fencing at both ends and along the side of the deck that looks over the water feature and pool to the area of lawn beyond. Elsewhere, hardwood screening has been employed.
As we all like to entertain at night, lighting was important. Summit Pools installed multi-coloured LEDs in the pool so the owners can create different moods and looks. This is complemented by the lighting in the outdoor room and is often enhanced by the placement of candles or lanterns around the pool.
While the right choice of materials is vital, meeting the particular construction challenges of each site is essential. In this instance, the pool was built to meet the deck level 2m above the ground. And, of course, you need the right pool equipment. To combat falling leaves from the established trees, in-floor cleaning was installed; for energy efficiency, there is a variable-speed pump. The result is an easy-to-maintain pool that is a perfect fit with both the house and the owners' lifestyle.
Project details
Pool design and construction by Summit Pools 12 Beagle Street, Shailer Park Qld 4128 Phone (07) 3806 4066 Fax (07) 3806 4366 Mobile 0432 823 922
Email info@summitpools.com.au Website www.summitpools.com.au Photography by Glenn Weiss