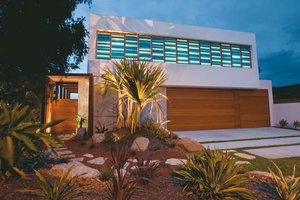 What are the advantages of having glass windows in the home?
Windows with standard clear single-pane 3mm flat glass are generally the thermal "weakest link" in residential buildings, however advances in glass and window technology mean home owners can now create beautiful light-filled living spaces without sacrificing comfort and energy efficiency.
• Improved comfort and thermal performance: Temperature is central to comfort within the home; even the most beautiful home can't make up for uncomfortable climatic conditions. With up to 49 per cent of heat loss in winter and up to 87 per cent of heat gain in summer occurring through a typical home's windows, homeowners are using significantly more energy to heat and cool than is necessary. Central heating and airconditioning go some way to making a home more comfortable, however designing a home with the right choice of materials for the walls, ceilings, flooring, roofing and windows in the first place is a more effective way to ensure a comfortable home. A unique building material, glass not only insulates from temperature extremes, it also controls the passage of light and heat into our homes.
• Greater design freedom and increased resale value: Selecting the appropriate performance glazing for your home provides superior control over unwanted heat gain and unnecessary heat loss through windows. This in turn reduces reliance on orientation, which provides greater design freedom for a site's prevailing conditions. Thoughtfully selected high-performance glass allows home owners to complement the aesthetic appeal of their home with large glazed areas, without sacrificing the building's energy efficiency. Furthermore, with residential energy efficiency becoming increasingly important, particularly with more stringent energy standards and Mandatory Disclosure, incorporating energyefficient building materials into your home may well have a positive impact on the resale value.
• Views: Incorporating high-performance glass into your home's windows and doors allows you to bring the best of the outside in. Too often, people neglect to make the most of their surrounding views — and with the breathtaking scenery on offer from Australia's landscape, that is a real shame.
• Entertaining: Alfresco areas are high on many homeowners' wish lists these days. Glass windows and doors are an ideal way to seamlessly integrate indoor and outdoor areas, creating the perfect environment for entertaining.
• Natural light: Extensive glazing allows for increased natural light indoors. A growing amount of research from around the globe points out the benefits of natural light on human health — and you'll save on artificial lighting costs at the same time!
• Improved acoustic performance: Unwanted noise can have a huge impact on the enjoyment of our indoor environment. In conjunction with appropriate selection of other components such as walls, floor and roof, special noise-reducing glass can play a vital part in addressing unwanted noise. In addition to the above benefits, most glass products can be customised to offer other benefits such as increased security from intruders, protection from extreme weather and reduced sun glare. There's even selfcleaning glass available! Modern performance glass makes this achievable without heavy tinting or mirror-like coatings that reduce natural light and can detract from the appearance of your home.
Do glass and energy efficiency go hand in hand?
With homes subject to increasingly stringent star ratings — the BCA 2010 will introduce a minimum six-star rating for new homes and renovations effective from May 2011 — perhaps one of the most significant characteristics of appropriately selected glass is its ability to dramatically improve thermal performance and reduce the amount of artificial heating and cooling used by homes. Being the only major building material that directly admits radiant heat, it is not surprising that up to around 87 per cent of unwanted heat gain in summer can enter a building through unsuitably glazed windows. And because ordinary glass is relatively thin and conducts heat well, these same windows are also a major route for heat loss during winter. As a result, home owners across Australia are using more energy to heat and cool than is necessary.
Locally made durable "hard coat" Low Emissivity (Low E) products, from glass manufacturer Viridian, lie at the core of a wide range of glazing options that can be matched with windows for improved thermal performance in your home. These include Viridian's ThermoTech™ range of high-performance insulating glass units (IGUs), commonly referred to as double glazing, as well as single-sheet and laminated products, such as the ComfortSave™ and ComfortPlus™ product suites. "By not leaving it to chance and thinking about your window and glass selection early on in the design process, you can help to ensure that you maximise the comfort and energy efficiency of your new home or renovation," says Justin. Owners of existing homes looking to retrofit energy-efficient windows don't necessarily have to replace entire windows. Many existing window frames will accept modern performance glass without major modifications. While for peak thermal efficiency homeowners can opt for double glazing with Low E glass, retrofitting double glazing into existing frames is not always possible or practical. Fortunately, there is a range of single-glazed energy-efficient Low E glass options, including Viridian ComfortPlus™ which can be considered where a frame may not accommodate a double-glazed unit. While not providing the insulation performance of double glazing, it provides up to 39 per cent better insulation than ordinary glass.