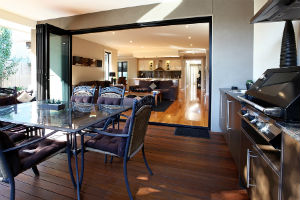 Planning a home renovation or extension to create that sought-after indoor-outdoor connection? If so, read on

We're a nation of home renovators. We love nothing more than buying a run-down house, doing it up and selling it on. Or at least we like the idea of doing that, even if many of us don't get any further than watching Property Ladder on Foxtel.
Equally, we're a nation of outdoor entertainers and it is this that has been driving one of the strongest renovating trends of recent times. According to a survey conducted by Archicentre, the advisory arm of The Royal Australian Institute of Architects, the biggest renovating trend at the moment is the creation of flexible indoor-outdoor entertainment areas. Whether this means opening up the back of the house with bi-fold doors and the addition of a deck or building a new rear extension specifically designed to create a seamless indoor-outdoor living experience, if done well it can add considerable value to your home.
If you are planning to extend or renovate — for whatever purpose — there are certain essential elements to ensure that the project is a success. The four main stages in any project are:
• Preparation
• Planning
• Construction
• Moving in
Preparing for a renovation
Budget: Before you begin your project, look closely at your budget. Remember that a budget covers more than the cost of building and fitting out the renovation. It should also include items such as site works (which might include things such as the removal of trees, old retaining walls and rock), landscaping and the landscape designer or architect's fees.

Finance: If you don't want to wait until you have saved enough to finance your extension or renovation, investigate your finance options. With the huge variety in lending institutions, mortgage brokers and financial advisers available today, homeowners have more options than ever before.
Information: Know your options. Read magazines such as Backyard & Garden Design Ideas, Outdoor Design & Living and Renovate & Extend. Visit as many display homes as you can to gain inspiration as most new homes today are designed with indoor-outdoor living areas; some even have outdoor kitchens. Visit showrooms, too, for ideas on paving, decking, lighting, outdoor kitchens etc. Keep a notebook handy to jot down any special features that catch your eye. 
Planning: Once you've reached planning stage, it's essential to clarify your position and finalise the plans so construction can begin. A few points to consider:
• Ask your chosen builder for references and visit other examples of their work
• Ensure the contract takes the form of a recognised building contract, such as those from the Housing Industry Association or the Master Builders Association
• Ensure you know exactly what is included in the price and this is clearly stated in the contract
• Ensure any amendments or alterations are agreed to in writing and signed by all parties
• Ensure the proper home warranty and public liability insurances are taken out (this is your builder's responsibility)
• Check the plans thoroughly so you understand exactly what is being built
• Ensure that relevant paperwork has been submitted and approved, such as a Development Application or Construction Certificate (this is your builder's responsibility but it's good to check)
• If you don't understand any part of the contract or plans seek your own legal advice
• Ensure that any amendments or alterations are reflected in your plans and specifications
• Double-check the scheduled start and finish dates
• Double-check the final total cost
Construction: This is a very exciting time. The months of searching, choosing and agonising over indoor and outdoor finishes, fittings and colours has finally come to fruition and construction is about to begin. But your work is not quite done. Here are a few items to consider:
• Have the contact details of your allocated site manager handy at all times and ensure they can be reached on the numbers provided
• If any changes are made during the construction process, these should always be in writing and signed by all parties
• Make sure you or your partner visit the site regularly, even if you both work, to check on progress and discuss any issues that may arise during the renovation process
• Keep that notebook handy and jot down any discussions with your on-site builder or any notes about progress
• When you receive a claim for a progress payment, double-check that the work has reached the appropriate stage
• When you receive the claim for final payment (the builder may refer to this stage as "practical completion"), check every aspect of the extension or renovation to ensure you are happy with the end result 
• Take note of any minor defects you find and tell the builder as he has a legal responsibility to ensure the work was carried out in a proper and professional manner
With all of this sorted, it's now time to hand over the final payment and make plans to invite friends and family over to enjoy your new indoor-outdoor living and entertaining area.
In search of ideas?
1. Start a clippings file. Tear pages from specialist magazines, browse interior and decorating books and collect catalogues, samples and colour charts.
2. Shop around. Visit as many showrooms and display centres as you can find to gather ideas and inspiration. Talk to the staff and make notes as you go along. Collect as many product brochures as you can to jog your memory later or to show your building and/or landscape designer.
3. Get online. You can save much time and effort in the early stages of research, simply by surfing the net from home. Don't just search Australian sites at this stage — ideas and inspiration can come from anywhere.
4. Don't get too caught up in what's trendy at the moment. You want to have this space for a good many years, so try not to go for design features, colours or finishes that will date quickly. 
5. Carry your digital camera with you, then if you see a project, product or material you like you can snap a photo for future reference.
6. Talk to friends or family who have renovated or extended in the past and ask what worked for them and what they would have done differently. 
Indoor-Outdoor
Forging a better connection to the large backyard was a main goal of this home extension
Photos: Jon Linkins
This striking and modern home is the result of a total renovation and addition from Brisbane-based architect Matt Cooper of Aspect Architecture. The work was extensive, involving the construction of a two-storey addition to the rear of the building.
The ground floor of this extension accommodates an informal living area, a new kitchen that flows onto the backyard and a new outdoor entertaining space, complete with built-in barbecue. The upper level contains a parent's retreat offering impressive views.
The look is clean and modern throughout, from the oyster-grey polished concrete floor of the entertaining area to the Quarella Quartz kitchen benchtops.
Of the new outdoor entertaining area, Cooper says: "This is a space that connects beautifully to the kitchen, the yard and the pool area. The use of adjustable and retractable blinds allows this space to be either completely opened up and to feel very external or, when required for either sun or rain protection or even winter warmth, closed down and very much become an outside room."