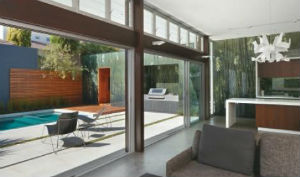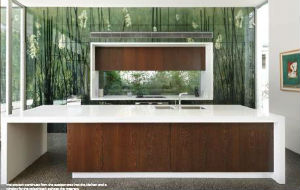 Evidence of the digital revolution that intersects with glass technology can be vividly experienced in the Savannah House in Brighton.
Glass provides the dramatic canvas for this remodelled 1920s bungalow in bayside Melbourne. The effect of bordering lush grasslands isn't an attempt to create the grand 3D illusion so much as to reinforce a sense of tranquil suburban oasis. It would be wrong to dismiss this invented forest — an expanse of glass that speaks of a lush dreamscape. Art that provides an illusion of realism isn't for everyone and the real thing is usually preferable to the visual game. Yet not everyone can afford a soaring glass pavilion on the edge of a rainforest where the scent fills your nostrils.
This is an interesting challenge for architects who use new technologies to recreate or invent clever commercial and residential environments. In the 1970s, wallpapers were a popular way to expand the experience of the 20-by-30-inch painting; hence landscape wallpapers of waterfalls and jungles enjoyed fleeting popularity. Their problem was that they lacked credibility in their conversion of a bathroom or attic into a faux window that overlooked parts of Kakadu and Africa. Slipshod paper hanging could easily lead to a misaligned waterfall or vertically challenged tree. Digital photography has, however, radically altered the landscape for architects and their clients. In the process it has opened up whole new possibilities for glass to perform, much less as wallpaper than as luminous canvas. Once treated as the material that filled the hole left over by builders, glass is no longer the neutral "patch" material but a feature item. The digitally imaged glass wall of the Savannah House accentuates the depth of the property with a seamless transition inside to out, the entire glazed feature stretching an uninterrupted 15 metres and standing more than three metres high.
Project architect Adam Grundmann of bg architecture initially approached Viridian to explore the possibilities of a glass wall of the type he envisaged and Viridian and DigiGlass combined to provide the glazing technology necessary to allow the architect and client's remarkable vision. "We were very nervous because of the amount of money involved," said Adam. "In the first instance, Viridian recommended DigiGlass and we were extremely happy with the level of support and technical expertise. They provided numerous samples of varying sizes along the way to reassure us that the plan would work."
The project is a complete overhaul of a 1920s home with a 1980s extension that turned its back on the northern aspect. The rear extension was demolished to make way for a new singlelevel kitchen, dining and family room with an adjoining kitchen, dining and family room with pantry, laundry and sauna to one side. The new living zone is offset from the existing doublestorey home to create a landscaped lightwell and level transition to the northern aspect.
The main living area and kitchen now benefit from cross ventilation and solar gain with views to the lap pool and entertainment zone. Interior glazed elements are screen-printed digital imagery to the back of 6mm Starfire clear glass on a black melamine substrate. The external system sees the image printed onto a 0.76mm film (DigiGlass) and laminated with a layer of 0.76mm white film between the two sheets of 5mm clear toughened glass onto a fibrecement substrate.
The major challenge to assemble such a detailed imaged over such a large area required careful calibration and set-out of each panel. Rigorous coordination was required between builder, cabinet-maker, glazier and digital printing company to ensure the facilitation of these panels. Adam explains how test prints were created and challenged on the particular glass as well as spacing to allow for fixed, moveable and lockable panels.
"The set-out was critical to ensure that any penetrations through the glass for access to hardware installation was accurate and any movable panels could move freely without conflict with adjacent panels." Each glazed panel was individually sized to suit the function of the particular panel, whether laundry access door or a joinery element. Resistance to image fading was a critical consideration and the decision to proceed with the project came with a 20-year colour fidelity guarantee.
The original photographic artwork was supplied by the client's father and was a high-resolution image of grassland in Africa complete with lion. "We cropped a section of the grasses from this shot and were able to enhance the green colours and focus depth in Photoshop to ensure the image was not too pixilated when realised in actual scale," said Adam.
The portrayal of true-to-life landscape hues accentuates the nature scenery to an external pool area with limited landscape possibilities.
Project Particulars
Savannah House, Brighton Victoria
ARCHITECT BG ARCHITECTURE 13 Martin Street St Kilda Vic 3182 Tel: 03 9525 3390 Fax: 03 9525 4280 Website: www.bgarch.com.au
Project team: Adam Grundmann, Kerry Ward, Felicity Brenchley, Bridget Auld
BUILDER ADCON CONSTRUCTIONS Tel: 03 9530 8276
Glass fabricat or Feature wall: DigiGlass Internal glass feature wall: Future Glass Principal glass provider: Viridian Website: www.viridianglass.com
Principal glass types: Low E and doubleglazed Low E (main doors and windows)
DigiGlass graphic laminated 11.52mm Comprising: 1 × 5mm clear toughened, 1 × 0.76mm Digiglass PVB, 1 × 0.76mm pure white PVB, 1 × 5mm clear toughened