A balance between family living and formal aspects.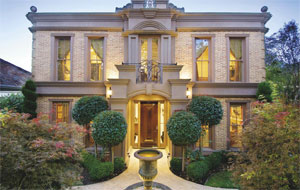 Wandering through this distinguished two-storey marvel, it becomes evident that many years of design ideas have been tastefully combined to create a spacious home. Located in a prestigious suburb of Melbourne, this home was designed to give a balanced priority to family living and formal entertaining aspects.
There is an immediate sense of space within the home, emerging from a combination of large rooms, vaulted ceilings and good zoning. Consideration was given to maximising space and height for the occupants via glamorous three-metre high ceilings. Making the best of outdoor spaces while minimising the impact on neighbours was also heavily considered and the result is a home that sets itself apart from the others.
The front façade of Daniel Robertson bricks, rendered bands, elongated windows and exclusively designed detailed mouldings create remarkable street presence. The triple garage to the side has also been integrated into the design. Defining the front boundary, the fence shares complementary bricks and mouldings with finely crafted wroughtiron panels. These impressive entry gates, along with impeccable landscaping and central feature fountain, complete the picture of classic grandeur.
Embracing all the charm and character one would expect from a quality home, the interior features state-of-the-art fittings and furnishings with an infusion of spacious informal areas and a formal zone that is tailor-made for sumptuous living as well as entertaining on a grand scale.
A neo-classical influence is inherent in aspects of the interior and architectural design. The unique use of brick detailing, a raised feature ceiling in the formal living area, an elaborate feature staircase and marble tiles in the entry are just some features that enhance this classic design. Also worthy of note are the marble tiles to the bathrooms, the parquetry floors in the kitchen and family room, as well as the intricate feature windows and mouldings. The rich colours of orange, deep ochre and royal blue on the furnishings are a stark contrast to the white marble of the fireplace, floors and walls and therefore emanate warmth. The marble earth and stately mantel also define the sense of opulence in the formal living area.
The charm of the design has made its way up the feature staircase and into the bedrooms, with elegant furnishings and drapes that help set the mood. While the bedrooms, the office and the quiet reading nook that leads the way to the front balcony share the elegance and grandeur of the rest of the rooms, there is less formality here, helping to make this house a home.
As with all Englehart creations, this home has been designed with the resident in mind and thus came together with ease and satisfaction.
Englehart Homes
796 High Street, Kew East Vic 3102
Tel: 03 9810 2800
Fax: 03 9810 2810
Email: sales@engleharthomes.com.au
Website: www.engleharthomes.com.au
DISPLAY HOMES Saville: 25 Belmore Road, Balwyn North City House: Cnr Winfield and Belmore Roads, Balwyn North Photography: Matthew Mallet Photography