With the right outdoor heating solution, you can enjoy year-round entertaining.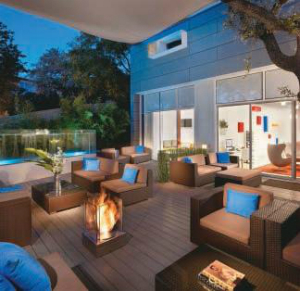 The opportunities for improving our lifestyle seem to grow with each passing year. In fact, according to Nicholas Agnew, managing director of Agnews Fireplaces, the home improvement scene has never been more interesting or exciting.
"Decorating styles these days are less structured; people are more relaxed about mixing and matching styles, old and new," says Nicholas. "Room sizes tend to be a bit smaller and there is a strong emphasis on achieving value and functionality from all spaces."
The clever blending of outdoor spaces with internal living areas to create alfresco zones is an excellent example of the new thinking in home design.
"Seamlessly linking indoor and outdoor casual living zones expands lifestyle options and entertainment capacity," says Nicholas who also points out that incorporating a fireplace into the landscaping mix is quickly gaining favour with many home improvers.
"A stylish fireplace setting contributes a unique quality to the décor and ambience of a space," explains Nicholas, "and the new Dakota outdoor gas fireplace has added an extra dimension to many alfresco living areas.
"The Dakota has really stirred the imagination of home improvers and we've had a lot of fun with it as we've worked with clients on some very creative projects. The Dakota's spectacular flame pattern and clean stainless-steel features give it a strong presence and add an element of focus to the area.
"Agnews Fireplaces have been at the forefront of our industry for nearly four decades, keeping pace with technological developments, fashion and lifestyle trends," adds Nicholas. "The movement towards alfresco living areas is just another interesting twist in the road for us at Agnews. We are a decorating business and we know how to bring all the elements together to ensure the fireplace makes a valuable contribution to any space."
Check out the Heat & Glo Dakota Outdoor Gas Fireplace plus a selection of fire bowls and ethanol-fuelled fireplaces first-hand at the Agnews showroom in the Melbourne suburb of Richmond.