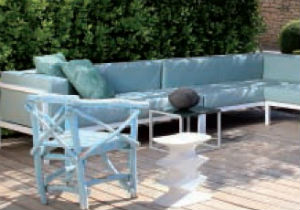 Today's outdoor fabrics offer a multitude of options for decorating any outdoor room
Words: Catherine Stewart
In any room, it's the details that transf orm it into a warm and welcoming place. Fabrics bring brightness, texture and pattern to furnishings, walls and floors as well as the individuality that features in the best rooms.
Outdoor rooms often have a neutral palette for walls, floors and furniture. This is sensible, as you don't want to lock yourself into a particular colour theme and pavers and outdoor furniture can be very expensive to replace after only a few years.
Use neutrals as the perfect background for creating a whole new look with soft furnishings, which will also add comfort and a luxurious feel. Rugs, cushions, blinds, awnings, hammocks, umbrellas, tablecloths, throws and wall hangings made from durable outdoor fabrics will bring colour, pattern and texture into your outdoor room in limitless combinations.
Outdoor fabrics have come a long way from the old days of heavy, very plastic-feeling canvas. New technology means that the material you choose for your outside upholstery and cushions can also be used indoors on lounges and armchairs, as it will have all the same softness, pliability and wear characteristics. Some even look and feel like silks, linen and velvets. Matching fabrics helps you make a seamless transition from inside to out, so your outdoor area feels like it's an integral part of the house.
New fashions in decorating mix patterns in exciting ways Forget using the same fabric for everything and get a little adventurous. You can opt for different patterns in the same colour range, mixing stripes with florals or checks and bold patterns, or really go all out and combine different colour groups as well. If you don't feel confident with your ability to work with both colour and pattern at the same time, just pick up one or two colours from a printed fabric to repeat in blocks of plain colour.
Remember that outdoor rooms are usually filled with bright light, so pastels and delicate prints can look too pale and washed out. Buy some swatches of fabric first so you can see them in situ. Online stores also have samples so you can try before you buy, and some have websites that suggest colour and pattern co-ordinating fabrics to go with your initial choice.
Outdoor rooms experience all types of weather. Even those with overhead covering will have lots of sunshine, and some are exposed to rain as well. Fabrics need to stand up to harsh UV light, rain, dirt, mildew and mould, and even swimming pool chemicals and salt. Strong colour-fastness when exposed to UV light is essential, as faded outdoor cushions will instantly ruin your decorating efforts. Solution-dyed fabrics have yarn fibres that are formed in a dye solution, so the colour permeates all the way through. This makes them resistant to fading from UV light, but also means that as the fabric wears the colour will not deteriorate. Patterned fabrics are printed with UV-resistant inks.
Common fabrics for outdoor cushions, curtains and tablecloths are acrylic-coated poly-cotton and polyolefin. These are water-repellent rather than waterproof but dry quickly, so they won't grow mould and mildew. For your cushion inserts, make sure you choose a reticulated foam, which has large, open pores that allow water to drain quickly through, so you will be able to leave your cushions out in all weather. If you're sewing them yourself, use acrylic thread and plastic zippers and fastenings.
Care for outdoor fabrics by keeping them clean, as dirt is where mould and mildew will grow. You can wipe off spills, or most fabrics can be washed in cold or lukewarm water. Do not use a dryer or iron, as heat may shrink or damage the fabric.
It might also be a good idea to store scatter cushions, throws etc in a cushion box when they're not needed or during wet weather. In response to the explosion in soft furnishings for outdoor applications — in particular, a huge growth in the number, range and style of outdoor cushions — we are seeing a growing number of stylish cushion boxes coming onto the market. Typically made of synthetic weave or timber, with some sporting an all-weather cushion seat attached to the lid, these boxes can be use as additional seating when entertaining as well as a means of storage.
To bring the whole picture together, spread an outdoor rug to "anchor" your outdoor setting within a larger space and to make it look more like a room. Most are made from polyester or polypropylene and some have a high proportion of recycled material, so they're environmentally friendly. Use rugs over dark-coloured paving in summer to tone down the heat, or to insulate you from cold, hard surfaces or draughty decks in winter. You can choose from a wide range of quiet neutrals in sisal and jute-like weaves such as the Alfresco range or, if the rug can dry quickly after rain, check out the Braided Rug Company's round and oval polypropylene traditional American braided rugs. At the other extreme, freek® outdoor rugs from The Netherlands (available from Exteneo in Australia) are like a wild-coloured artificial grass, in almost fluoro colours and vibrant stripes. Fab Habitat has elegant designs such as 'Jaipur', with cream swirls on a cranberry-red or green background, and online store Gaiam sells recycled polypropylene rugs in several colourful designs.
By co-ordinating your outdoor furnishings, from rugs to cushions to wall hangings, you can create an inviting indoor ambience in your outdoor room, ensuring it will have maximum appeal. And, when you feel like a change, all you have to do is change a few accessories.