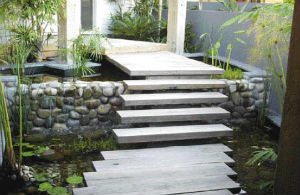 Outdoor room or front garden, a water feature helps to make a grand entrance
There's nothing more soothing than the sight of a rippling water wall or the sound of a gently bubbling fountain. Whether in the home, the garden or the business arena, a water feature adds ambience.
There are many water feature companies in the marketplace, but Creative Water Features offers a compelling point of difference.
"Our commitment to our clients is to give our best to get the best result for them — that is our difference," says Nigel Barnett, Director of Creative Water Features. "To achieve this, we have an in-house team of specialists who are passionate about their creations, which means our clients can rest assured that nothing will be left to chance.
"Clients can also be assured that they will receive a quality product on time. This means that our clients' investment is made wisely and our service to them is long-lasting. This is all made possible because the team has more than half a century of combined knowledge about water features."
The right feature for the right space is what Creative Water Features is all about, whether it's a formal entry pond for a residential property or an entrance feature for commercial premises. The company also hires out or leases pool features for use at special events. Creative Water Features is renowned for creating features that others say are impossible.
Special commissions are welcome and in recent times they have completed a 45-metre, six-level natural stream within a private residence and a two-level, award-winning feature pond as an entry statement to a large commercial property.
With an eye to saving water and keeping your water feature looking good all year round, Creative Water Features also has a new pond-cleaning maintenance program designed to allow you to sit back and enjoy the ambience.
"Creative Water Features's clients range from architects to interior designers and from property owners to commercial property investors," says Nigel. "These clients keep coming back for more because they know they will achieve their desired results."
CREATIVE WATER FEATURES
1/11 Pinter Drive
Southport Qld 4215
Tel: (07) 5528 2447
Fax: (07) 5571 2837
Mobile: 0414 696 935
Email: Nigel@creativewaterfeatures.com
Website: www.creativewaterfeatures.com