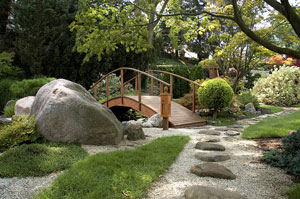 Take your garden from drab to eye-catching with a well-placed focal point

In garden design, a focal point has a very definite purpose. Yes, it's a decorative device, but it's also a means of directing the eye to, or away, from something. A focal point an be used to draw the eye away from a less appealing garden view and concentrate the attention on something pleasing or it can be used to engage the eye and lead it towards a preferred vista.
A focal point gives definition to a garden design. It is also a means of making a design statement, be it bold or subtle. What can you use as a focal point? Water features, ornate garden benches and seats, arbours and obelisks, sculpture, groupings of stone boulders, decorative pots, specimen trees, wall art — the list continues.
The key to success is strategic placement — a focal point can't just be plonked wherever there's some spare space — and it needs context. Place the piece at the end of a meandering garden path, against a backdrop of a flourishing evergreen hedge or position it so you view it through the branches of a tree. You can also take a more subtle approach and nestle a smaller focal point in the midst of a garden bed — something to catch the eye as visitors stroll around the garden and to focus their attention on the planting.
At night, a focal point can really come into its own with uplighting, especially a piece that has been positioned so you can enjoy it when looking out one or more windows of your home.
1. Set on a slightly elevated platform and glimpsed through a break in the planting, this urn-style fountain is a classically beautiful focal point.
2. A small stone plinth tucked into a garden bed draws the eye in a subtle way. Garden design by Dirtscape Dreaming (www.dirtscapedreaming.com.au).
3. With the right lighting, a focal point can be enjoyed during the day and at night. Garden design by Living Colour Landscapes (www.livingcolourlandscapes.com.au).
4. With her hand-applied bronze finish, Virgina is the perfect focal point for a small pond. Pond feature from Waterwerks (www.waterwerks.com.au).