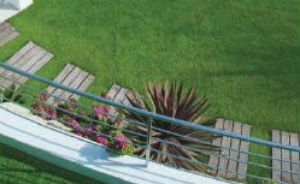 Create a green outlook from your outdoor room with quality synthetic grass

By Karen Booth
Artificial grass
Taking the outdoor room concept to the next level, you could consider an expanse of artificial grass underfoot, not unlike a lush outdoor carpet. If all you want is a patch of green to gaze out upon — something that will stay green year-round, without the need to edge, mow, weed or water — then the new breed of artificial lawn grass products has much to offer.
"Aesthetically, artificial turf has come a long way in recent years. Today, there is no shortage of natural looking products developed specifically for domestic landscaping," says Kellie Doust of Synthetic Grass & Rubber Surfaces.
Thanks to ongoing research and development, the range of artificial lawn products that emulate all the qualities of natural turf has increased, which means the days of bright green Astro Turf (a product that proliferated in the 1960s) are well behind us.
"Today's products are soft underfoot, have great drainage properties to avoid rainwater pooling and give a lush green appearance all year round," says Kellie. "By using new advanced polymers and yarns, we are able to produce a range of product with improved UV-resistant properties, which makes them deal for the harsh Australian conditions."
Bill Rorke of Pro-tech Corp agrees: "There have been major improvements in synthetic yarns over the years," he says. "Most yarns manufactured in the past were harsh polypropylene products aimed at sporting surface applications. Recent advancements have seen the development of polyethylene products which are much softer and more suitable to residential lawns."
The right option
According to Kellie, the two main reasons why most people choose artificial grass are its reduced maintenance compared to natural turf — it doesn't need to be weeded and always looks manicured — and the fact that it doesn't need to be watered.
While artificial grass has many applications — it can be used for front or back lawns, on balconies or rooftops, in courtyards, around swimming pools or for dog runs — Bill says he sees it used most often in smaller backyards when only a small area of grass is desired. It is also often called into use in areas where natural turf is hard to grow, such as under shade, tree-covered areas or on awkward slopes.
"With the quality of today's artificial grass products and an experienced installer, you can create beautiful results anywhere in which natural grass may have been an option," says Chris Koojman of Regal Grass.
"On top of that, you also have situations where natural grass could not be used, such as balconies and roof terraces. We've also seen some crazy but clever ideas, such as installations onto walls and even outdoor furniture, so we actually believe the applications for artificial grass are still growing and are only limited by your imagination."
"The key decision points as to what product is most suitable include the type and frequency of use, the location and the base onto which the grass will be installed and also the prevailing plants and trees in the area," says Chris. "So a backyard where children play may drive a different product decision than an installation onto a balcony."
Quality control
Whatever style or type you do choose (some have a sand in-fill, others used rubber granules), always go for a quality product designed specifically for use as lawn and a reputable company prepared to offer a long warranty and good after-sales service. Excellent resistance to UV degradation is also vital given the punishing Australian climate. The product must have an authentic "real grass" look, which means a natural colour and non-shiny finish. It must also be well cushioned so that it feels soft but well-supported, drain efficiently and have blades that spring back up and retain their shape after having been walked on.
The thatching fibres, which are stitched onto a base material, may be variegated in colour or range from dark- to mid- or light-green and there is a range of different pile heights and thicknesses to choose between.
"Also look at the stitch gauge, as the closer the stitching the more secure the product," advises Duncan Swinton of All Turf Solutions. "Check out the stitch count per lineal metre and the pile weight, too, as the lighter the weight, the less dense and less durable the product will be."
"Other things to look for are does the product have a thatch layer (the cheap imports don't) and what is the backing compound? Is it a superior super bond latex or a cheap alternative?"
Installation process
Artificial grass can be laid on firmly packed earth, concrete, timber or metal. Kellie likens the installation of the product to laying carpet, which means it can be sculpted around the outline of existing pools or plants.
"Artificial turf can be self laid by a handyman in smaller areas where joining the material is not required. It is, however, strongly recommended that professional, experienced installers are used to ensure a quality finish is achieved," says Bill.
Chris agrees: "There is an enormous amount of manual labour needed in excavating and preparing a level and good draining base and there is technical expertise needed to align the grass correctly, join pieces cleanly and to trim for unusual shaped areas.
"That said, there are a lot of products on the market nowadays that are designed to make DIY easier and with some accompanying advice you can achieve good results."
Maintenance
In regards to maintenance, while upkeep is considerably less than with natural turf, you do have to expend a certain amount of effort.
"Despite what some people may tell you, you only get the best results from an artificial lawn with a small amount of periodic maintenance," says Chris. "This entails clearing up fallen debris such as leaves and twigs, as well as keeping an eye on and occasionally topping up sand infill levels to improve your lawn's longevity."
Duncan says the best way to keep your lawn looking great is to stay on top of any maintenance. "A crucial tip for maintaining the surface is to do a little often, rather than neglecting maintenance procedures for months and then facing large expenses to restore the surface to its optimum condition. Also keep in mind that neglecting to maintain the surface will affect the warranty."
To remove leaves or debris, use a broom or a power blower/vac. An occasional once-over with a broom will also help to "rejuvenate" the pile. Any food spillages should be wiped up and removed as quickly as possible, then the area washed with a mixture of warm water and household grade detergent.
As with any product, you want something that will be long lasting and give you and your family many years of trouble-free service. This means doing your homework, asking lots of questions and then buying the best quality product you can afford.
The benefits
You need never mow or trim the edges again.

No watering or weeding is required.

There is a cushioned feeling underfoot.

It can be cut to any shape required.

The product is pet- and child-friendly.

It can be used around pools and spas.

You can have green lawn year-round.

Grass-resistant areas can now be green.