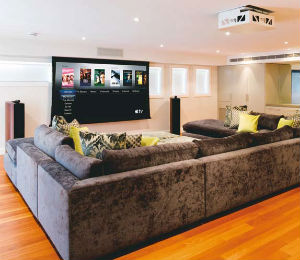 The terms "future-proof" and "smart home" can be used to describe this house and its digital capabilities. A leader in home automation and audio-visual design, Len Wallis Audio was assigned the job of installing a top-of-the-line automation system. The client brief for this new luxury home was very specific: "It needs to be future-proof with lots of areas of sound and multiple rooms with displays — and no boxes anywhere in sight."
This client requested that, where possible, equipment remain in a single location and be distributed. This project utilised a Crestron fibre optic network to distribute sound, vision, control and network/website access around the house. By using a Crestron digital media system, the team was able to distribute all high-definition HDMI signals from a variety of sources to multiple displays. It could be switched and controlled all at the same time from multiple users, with no dropouts or HDCP (High Definition Content Protection) issues. In the main equipment rack, the team at Len Wallis Audio located 12 Terabytes of storage and two separate APPLE TV units, multiple HD FOXTEL IQ units and multiple TIVO receivers. These devices are then distributed like all other sources to all or any location in the house. Traditional audio distribution was also added to the mix with the installation of Crestron products and traditional power amplifiers and a total of 50 speakers. One such location is the pool area, with its 8.1 speaker system by James Audio and waterproof remote from Crestron, which produce a truly full-range outdoor audio experience. In all locations there is some form of Crestron control; in fact, there are a total of 346 individual custom-designed GUI (Graphical User Interface) pages. In all display locations such as the plasma, LCD or projector, Len Wallis Audio provided handheld touchscreens and at various house locations provided multiple 12in fixed on-wall touchscreens for whole-house control. All up there are 16 areas of entertainment made of 4×5.1 zones, 12x stereo.
The C-Bus system looks after the energy management of lighting while the Crestron touchscreen provides the user with an easy-tooperate interface. "We are controlling everything in this house: internal blinds, motorised skylight windows, external louvres, motorised skylights on the terraces, pool pumps, pool heating, water features, airconditioning and 8x zones of floor heating are just some of the items on the list," says Peter Greentree from Len Wallis Audio. Another area to mention is the media room. This fabulous multi-purpose space has been designed to lead out to an external terrace for entertaining during the day. At night, the projector lowers from the ceiling and the screen lowers in front of the plasma to give a truly amazing theatre experience. Together with speakers from B&W and Velodyne, electronics from Marantz and control from Crestron, this is world class. As this was the first Crestron digital media fibre project in Australia, Len Wallis Audio anticipated a degree of learning and fault finding throughout the process and went so far as to highlight this to the client at the time. In fact, it was completely the opposite. The installation, termination, commissioning and programming of the system was a lot easier and less time consuming than a traditional copper project. The actual install process was quite straightforward. The company provided all equipment details to the designers and architects so the equipment could be carefully placed and installed into the home. In terms of the digital home, the COMS room is probably the most important area in the house. "It's where all those lovely black boxes that take up so much space, generate heat and noise live. This room is where every piece of technology around the house is connected to.
Every 'smart home' needs one and certainly any new home with even the smallest amount of technology in it should have some space allocated for it," says Peter. This future-proof home has the band width and hardware expansion to deal with whatever is on the horizon for many years to come.