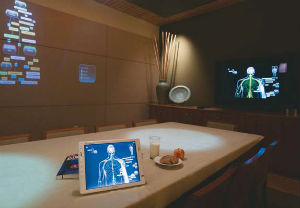 We may never quite live like the Jetsons, the family in that enduring 1960s television cartoon series that still seems to define the future for a lot of people, but there's no doubt we keep edging a little closer each year. In just the past decade, most homes have added multiple "smart" gadgets that not only connect effortlessly to the web, but perform multiple, complex tasks, can be managed remotely and (this is the important part …) increasingly talk to each other to create Home Area Networks — or HANs as they're also known. The shopping list keeps growing too, driven by a desire for both the latest and coolest — televisions with 3D or game consoles with gesture recognition as well as multiple versions of them all, so the whole family gets to play when and how they want. But our homes are in for an even bigger technological jolt over the next 10 years, as optic fibre starts knocking at the front door. This is a global trend, of course, but Australia has been more ambitious than most by agreeing to build a National Broadband Network — or NBN for short — that's designed to ultimately bypass all those copper telephone wires we've relied on for the Internet so far by delivering the new whizz-bang fibre technology to nearly every house in the country. Basically, fibre means faster, better Internet access. Web connectivity is generally talked about in terms of speed and data bits so that under the NBN, most people are being promised speeds of around 100 Megabits per second (Mbps). At the moment, even the very best services are still only about 20 Mbps. While the road to the NBN is proving a little bumpy — and may ultimately be affected by costs or politics — there's no denying that faster online connectivity is coming no matter who or what delivers it, and that's already making a huge difference to how we live, work and play at home.
Plugging in
Most people seem to agree and are signing up for broadband at home at a dizzying pace. New figures from the United States predict that nearly every home there will be plugged in by 2016, while Australia — one of the world's most enthusiastic technology adaptors — looks like being there even earlier. Already 80 per cent of households here have joined on — the world average is still below 30 per cent — and in the past six months of last year another nine per cent signed up for some form of web access. Not only is broadband now being called the fourth utility — after water, electricity and gas — but is starting to be seen as part of the overall appeal of a home or apartment. Big property developers saw that trend a while ago and have been putting a lot of effort into creating smarter homes and apartments — and marketing that IQ edge to stay ahead of their competitors. Delfin Lendlease, for example, now includes Fibre to the Premises — FTTP for short — as a standard feature in new projects and is making sure they're all wired to handle the advanced technology, with the company saying they expect to include it in more than 100,000 homes and apartments coming online over the next few years. It's one more sign of how important home intelligence is becoming in the property equation, with experts saying it will be part of the bottom line when it comes to valuing and selling properties over the next decade. Signs of that are already here as a recent UK survey found three-quarters of house hunters said they would be "put off" buying by slow broadband, a fact that led the country's biggest property website, Rightmove, to recently announce that from now on it would show the web speeds of the 1 million plus homes and apartments it regularly lists. It's a similar story even in the US's ailing housing sector, where homes with some form of IQ built in have reportedly been outperforming the rest of the market. Major builders there agree, with a majority reporting that Internet connectivity is now an absolute prerequisite for all new home construction. At the same time, recent polling of US apartment dwellers found two thirds would move or not renew their lease if the broadband wasn't up to scratch.
Define smart
Of course, an optic fibre box on the side of the house — or even much faster broadband — will not a smart home make and it's what's going on inside the four walls — and even out on the patio or around the pool — that makes all the difference. There are a number of ways to handle and distribute all that blistering speed and big digital capacity at home, but the two most popular options remain either wired or wireless — and using both in combination is really the most sensible approach. High-speed wires and cables (you'll hear the terms Cat 5 or Cat 6) offer reliability and the ability to deal efficiently with big digital material such as web-streamed High Definition movies or music, video conferencing or multi-zone, multi-gadget interoperability. Wireless, naturally, creates a lot of flexibility and mobility at home, adding in some extra layers of technological knowhow with ease of access at lower cost, but still with some performance limitations. "If you can do it, then putting in the wires either as you build or renovate will make your home technologically far more adept than just relying on wireless," pointed out Len Wallis from Len Wallis Audio. "Wireless is definitely getting better all the time, but so are the demands we're making on our homes and if you've wired to each room or even outdoors, you're really prepared for technology as it will change." And there's no doubt our homes are in a state of flux. While most consumers seem to mistrust the idea of "full home automation" — think The Jetsons actually — and haven't really signed on to the concept, we're clearly already living in digitally enabled homes and have become much more comfortable using technology at every turn. As our homes have gradually filled up with clever, connected devices and appliances, there's a push to try to make them work together, giving us the ability to do more things remotely or in a programmed, controlled way. For Len Wallis it's this ability to network, link and manage technology that really defines what a smarter home needs to be. "I prefer the term integrated home to smart home as it's the capacity for different house systems to talk to each other and be controlled by one central process that really puts the intelligence to work," Len said. "And this can't be done haphazardly or by an electrician without the training. It has to be properly planned as part of the building process, designed and installed by people with the right skills so that it works effortlessly." This means that nearly everything we use at home is up for a little technological tweaking, especially if the device or appliance can be linked directly to the web. This is already happening in home entertainment in a huge way; media servers holding gigabytes of media accessible from all around the house is just one example, but climate control, lighting, security, energy management and communication are all being added rapidly to the mix. If the fully automated smart home is still not mainstream, the number of companies creating new products to help it happen suggests we're definitely on the way. Not only are there are a load more devices and appliances coming out with in-built networking capabilities — home automation features are appearing in components as diverse as audiovisual, security, thermostats, handheld remotes and power management — but companies such as Cisco, Clipsal, Hills, HPM and Control4, to name just a few, have a range of wired and wireless whole house integration solutions on offer. If you needed any more sign that this is one of the hottest markets around (predictions are that it'll be worth more than $13 billion by 2014), Google has just announced that it too is getting into the market with its Google@Home to let you control everything from lights to speakers from its Android-based phones and tablets.
What's important?
While this may seem a little daunting for people just beginning to think about designing a new home or renovating an existing one, the fact is a well-put-together smart home should be entirely intuitive and simple to live in. Done properly, most home smarts don't require any extra effort or technical knowledge and can be seamlessly incorporated into our lives with the touch of a button or swipe of a finger on a screen or tablet. But there are some simple ground rules that are worth following and number-one on that list is working with an integration company that knows every aspect of smart home technology — from media rooms to energy management — and, just as importantly, will be there long after the job has been completed to help out. "Unfortunately a lot of people, including builders and architects, don't see how important it is to get a skilled integration company involved as early as possible in the design process," Darren Smith, owner of Melbourne integration company, Evolve Living, said. "Fibre will make a big difference at home and working with a company that can see the global picture, and what is coming, means a home can be set up for the future." Some upfront knowledge is useful, though, before making the phone call or sending the email, and I've come up with five golden rules that might help:
Plan: Think about how you want to live with technology and the sorts of features you really want. Technology that isn't relevant to your life will go unused so talk about all the possibilities to really identify what seems essential. For instance, while home entertainment will be a must, you still need to think about whether you want a dedicated cinema or a multipurpose media room (or both), and if every room in the home needs access or just a few, including outdoor areas.
Cross Talk: Systems or devices should operate together as much as possible so that you are managing the whole house, not just separate features. Tapping onto lighting or security controls, for example, should also be able to link to programmed heating or cooling thermostats — or even automated windows, doors or curtains — so that the house responds appropriately.
Remote Control: Easy access and control of your smart home systems are crucial and this means not just while you're home, but even when you're at work or on holiday. While wall screens and hand-held remotes keep getting better and more intuitive to use at home, the big trend is simultaneous smart phone or tablet control while there or out and about. Better still, when linked to house cameras you'll also be able to check how things are going on any screen that's available.
All Change: Time waits for no one and the same is just as true with home IQ. The sort of technology that now seems mundane was more like science fiction just 10 or 20 years ago. That means you want high-tech infrastructure or systems that can be expanded and upgraded easily, including software — the glue that holds it all together — that can be updated without too much fuss.
Simplicity: While the workings of a smart home behind the walls and under the floors will be complex, the way you interact with it shouldn't be. Systems and devices you choose should be easy to understand and operate, and nothing beats looking around and testrunning these "interface" options. Configuring remotes and wall screens to personalise the experience is also a possibility that is definitely worth exploring.
Let there be light
Not only should this sort of technology be able to ease some of the burdens of everyday life, it should also add pleasure, beauty and, yes, even luxury, to our homes in the process. And nothing does that more intimately or obviously than lighting. Electricity may have been with us at home for more than a century, but it's taken some 21st-century knowhow to really let us see it in a new … well … light. The ability to put all our lighting onto home networks, and then program and control them remotely, is sometimes called "intelligent lighting", a trend that's probably not had the spotlight it deserves so far, especially as we've been a bit distracted by getting the Internet and home entertainment bits right first. That's now changing as the costs of integrating homes keeps falling and other options start to look a lot more interesting. This means those old on and off switches — and they haven't changed that much in 100 years — could soon be on the endangered species list as lots of new options come on board, from the latest dimmers to sensor-linked models.
In fact, Pike Research says intelligent lighting is one of the big residential technology growth areas and predicts the global market for both homes and offices could be worth $2.6 billion by 2016. It's not hard to see why when you witness great home lighting design in place. Not only can you control the amount of light coming out of globes, and save some money in the process, but you can also program them to fit nearly any scenario, from lifestyle twist and turns through to changes over a day and night, seasons, or weather. Set lighting patterns — such as a welcome home, dinner party or night lighting — not only means you have total control over the whole house from a touch screen, smart phone or tablet, it also lets you think about how lighting should work to its best effect in each room and even outside. Linked to window shades and curtains, this can make your home lighting a far more dynamic feature than it's ever been before — and let's face it, the goodnight option beside the bed beats walking around the house to check what's been left on. Fibre optics is also adding its own digital edge to home lighting, emerging from more commercial spaces as a versatile, decorative and low-energy option around the house. Used alongside conventional lighting, it can help deliver tailored effects in areas such as home cinemas, media and dining rooms — as well as outdoor settings — to provide the ultimate in flexibility and creativity. "You can really use fibre optics to create a mood and atmosphere at home in ways that conventional lighting doesn't allow," said Ivan Tutic from Melbournebased Fibre Optic Cable. "This makes it a great companion for any entertainment areas where unique, one-off lighting features on walls, from ceilings or along floors, are needed."
Domestic appiness
If life at home is going to be a bit more futuristic fairly soon, it's only fair that technology lends a hand to help us sort it all out. Luckily there's now a thriving market in applications for your laptop, tablet or smart phone to help organise our domestic lives. Some of the most useful — especially for anyone with a neat streak — are those devoted to keeping track of everything at home. While there's some work involved in getting these programs up and running, they do come with the benefit of knowing a lot of your stuff is organised — well, virtually. iPhone and iPad apps such as Home Inventory, My Stuff and Itemizer are now available, and some of the PC-based programs may cost a bit extra but are more comprehensive. It's worth checking out the Windows Collectify Home Inventory, Home Inventory from Binary Formations or Delicious Library, which lets you take a photo of an object's bar code to find it online, categorise it and file it away — great for books, CDs and DVDs. Even electronically, most of us will probably still resist tidying up and thankfully there are apps that can help us do some of the other more enjoyable things around the house, especially when it comes to designing or decorating.
Paint-focused ones such as Dulux or Haymes iColour can let you link images to catalogues for rapid colour matches, while ColorChange or Home Decorator Pro allow you to snap a shot of rooms and then "paint" them for a trial run. And if you want to get a bit more hands on with your home's design — and even building — then apps such as HomeSizer, iHandyCarpenter, Home Design 3D, Handyman Sidekick, Renovation Budget Tracker and Home 3D — which lets you "build" your dream home and then take a 3D virtual tour inside it! — are all great ways to let your fingers do the working. And of course, for great home design inspiration, you should really check out the Luxury Home Design Magazine iPad App.