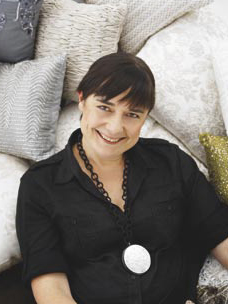 Making Waves

Melbourne-based textile designer, Tracie Ellis, is taking the world by storm. Now managing director of Aura bed linen, she's created a modern-day success story.
Tracie's designs are now stocked nationally in more than 20 Myer stores and other leading retailers, with every one of her designs known for their design excellence, revolutionary fabrics, quality manufacturing and ethical standards. Contemporary Home Design's Belinda Crestani talks to Tracie about her latest collection, her inspirations and life.
What inspired this collection?
The Aura Lifestyle collection is quite often inspired by my travels, work or holidays. In one new design, I have used bold exquisite colours and vibrant patterning to create 'Waves' — this design is inspired by the rolling movement of waves, organic lines and contemporary living. To complement this design, we've used our beautiful modern fabric, Coolamante, which is totally new age. It is woven using specially developed fibres for extra breathability and an incredibly luxurious feel. Another new design, 'Ena', is funky, strong patterning reminiscent of the '60s and '70s, classic ideas of my grandmother's groovy cardigans reworked using eccentric styling. Where I have been inspired by travels, it's more than often the little things, such as the tile work in the riads of Fez and some Moroccan lamps which I have been totally inspired from for the modern architectural patterning as seen in 'Mosaic.' So, three completely different inspirations, but the range is all about colours, lifestyle and beautiful fabrics.
What is your Design Background?
I studied a Bachelor of Art (Textile Design)at RMIT, then I gained my first insight intothe industry by working with Davenport— designing fabric for men's, women's and children's underwear and sleepwear. Following graduation in 1991, I worked with Country Road Homewares, where I designed my first quilt cover. From there I forged a career in the industry as a designer, working with the likes of Coats Paton, Pacific Brands, the Austin Group and Myer. Since then I have become managing director of Aura.
Tell us about Aura?
In 2000, I joined Linen House to start a contemporary brand for them. Aura grew into a successful brand and filled a gap within the industry for uniquely designed homewares for the fashion-forward consumer, and in 2005 Aura become Aura Lifestyle Pty Ltd. Since then we have continued to grow and Aura has recently gained retail distribution in UK at House of Fraser and John Lewis.
Why did you decide to go into Bedding?
I love homewares. I have always been more interested in shopping for the home than fashion, and the opportunity given to me by the Austin Group to design my own brand 'Domis' enabled me to travel to discover wonderful suppliers and create good relationships with retail buyers.
What is the trend of the moment in terms of Bedding?
For 2009 I have focused on three distinct and definitive lifestyle trends, which we have then interpreted into collections of modern, elegant home ranges. I understand that every home and bedroom is different and we feel Aura offers something for everyone. The styles we cater for include:
Natural Living: Our Aura Haven collection has soft natural inspired designs and fabrics featuring large-scaled florals and patterns that are quite simplistic in a way, almost hand drawn and worked in with textured fabrics. Seersuckers, cotton chambrays, pleating, scrunching, all in elegant soft antique milky plaster shades — layers of soft creams and lighter pebble grey, drizzle blues and spray greens. The colour and styling is subtle and crisp, yet still very modern and calming to live with.
Luxe Living: Our Aura Luxe collection is inspired by influences taken from history and updated into a new contemporary opulence,
with rich textures, bold metallic tones and an abundance of glamour! It's all about creating the look of upmarket luxury with high thread-counts, decent but totally chic accessories. Sexy velvets, matt satins, silks and still making sure we add that chic touch of sparkle to achieve the overall sexy glamour
look. Patterning inspired by curvaceous Art Deco style, Minimised Baroque and updated 1920s grandeur. I am always influenced by my favourite city, Manhattan; the city of total masculine glamour. Deep sexy tones of oxidised platinum and black diamond and shimmering soft elegant antique golds and champagnes — a totally Park Avenue look. High-quality fabrics and beautiful colours, textures, layering and fabulous accessories.
Contemporary Living: Our Aura Lifestyle collection is bold exquisite colours and vibrant patterning to make a total statement in the home — natural look meets technology. Hardedged motifs are back with soft natural shapes. Funky patterning of '60s and '70s — classic ideas reworked using eccentric styling. Taking ideas from travel; far away destinations of Morocco reworked into modern architectural patterning — anything goes, as long as it's totally cool and makes a chic modern statement!
What do you love most about designing?
I love being able to design fashion-forward ranges that stand out from the crowd, and I think our customers love that about us. We don't design a product just because it is commercial. I always like to use colour and beautiful fabrics to make Aura a fashion statement for the home.
For more information, contact Aura on 03 9552 6090 or visit www.aurahome.com.au.