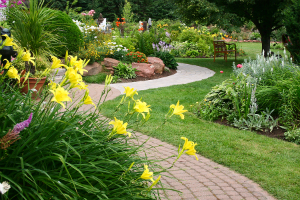 With recycled style, everything old can become new again
Story: Karen Booth
We've all heard it said: one man's trash is another man's treasure. And as the concept of recycled style in the garden begins to spread, those of us brought up in the "disposable" era are re-learning what our grandparents have always known: never throw anything away — you never know when you'll need it!
As anyone who has already caught the recycling bug can attest, you can make some rather amazing finds in junk yards, second-hand shops, demolition sites, on the side of the road on council collection days … even in and around your own home. By reclaiming, reusing or recycling things like old pavers, pots and timber palings, we're not just adding character to our gardens; we're doing our bit for the environment by reducing waste.
The philosophy of reuse and recycle takes you from the simple to the sophisticated. At the keep-it-simple end of the scale, it could mean something as uncomplicated as saving an old chamber pot or kettle from the scrapheap and using it as a planter. Or it could mean drawing on your ingenuity and do-it-yourself skills by converting an old wine barrel into a water feature. It could even mean sourcing weathered old hardwood from a demolished wharf to create a hardy deck, or perhaps sandstone blocks reclaimed from an old homestead to create interesting paving or retaining.
Introducing recycled style into your garden is a good excuse to tap into your creativity. Broken tiles and plates can be used to create mosaic wall art or feature insets in paved areas; old railway sleepers can be used for garden edging; a disused timber door can be turned into a tabletop; an old bathtub can be made into a plant-filled water garden; a wagon wheel can be propped in a corner and used as a decorative element; and so it goes. Of course, you don't have to go the do-it-yourself route. You can buy outdoor furniture, fencing, water features and works of art that have been made from reclaimed or recycled materials.
And it's not that everything has to be reinvented. Recycled style can mean using the bricks from that front wall you've just demolished to created a garden path. Or rescuing plants a neighbour was planning to toss in the bin and using them in your own garden. Or deciding to give an old timber sun lounge a new coat of paint — and a new lease on life — rather than consigning it to the local landfill.
On the following pages, we show you some of the looks you can achieve as well as some of the commercially available options for those keen to introduce a dash of recycled style into their gardens.
Backyard bliss
Designing with recycled materials — or what some might call junk — can be a very emotional experience

Story: Wendy Clarke, MAILDM
Photos: Patrick Redmond
I love a good story. Particularly one that emerges from a piece of declared "junk". The owner of the junk has an emotional connection, always with a story that's meaningful to them, thereby forging a connection to their past. The junk owner's partner, though, usually has a different story!
As a landscape designer, I find it immensely challenging and rewarding to elevate a piece of junk to art status. Once the junk is installed in a manner that all parties can accept, there is a newfound respect from the junk hater for the junk lover's emotional story. That's a wonderful moment.
Now, blokes and their cars — that's a touchy subject. I have a friend with a very large, secondary garage full of car and bike bits. The overflow goes to his office, where he has a mezzanine level with more spares. Up there, banished to the darkness, was a 65 cherry red Studebaker bench car seat, complete with chrome ashtrays on the back of the seat. He adored it. I was looking for something to use to create a bloke's barbecue area for the display garden I was designing for last year's Melbourne International Gardens & Flower Show and his passion for this seat was the starting point.
The car seat used in the display garden (which I called Backyard Bliss) became our outdoor furniture, but on its own it looked abandoned. When I added some hubcaps topped with lawn and a radiator with the hose snaking upward, we had a lounge room with footstools and a coffee table. We had art! The guys loved it passionately and their wives saw it with new eyes — many saying they could handle having something like that in the garden. Wonderful.