A unique and exciting living experience is created in this home, with every colour refracted through open space.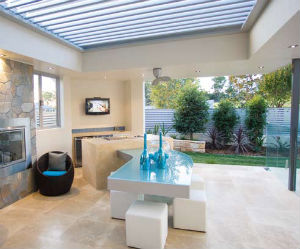 The design brief of this display home's beginnings consisted of two words: light and space. This project demanded something different. Gremmo Homes "wanted to create something inspired, with finishes and inclusions that you wouldn't usually find in a display home". And so this apparently straightforward vision found its majesty in Gremmo's unwavering attention to aesthetic detailing.
The team saw this home's northerly aspect as a fantastic opportunity to go above and beyond the original design concept. They installed operable skylights, clerestory windows and a Vergola roof system in the alfresco living area to take advantage of the abundant light. To complement these features, colouredglass furniture pieces and tinted windows are strategically placed to redistribute the light throughout every open space, each acting as a prism that casts its own dynamic palette throughout the home. By imparting such colourful flourishes, the interior design brings an otherwise clean and neutral colour scheme to life. It interacts with the vibrant blues and greens outside and balances them with cool shades of coffee, cream and slate. Further inside, red-shaded fabrics create a warmth that can only come from within. This is especially true of the billiard room.
Gremmo Homes looked outside the square for a way to make an impact in this recreational space, opting for a rock maple and polished silver billiard table design in harmony with stringybark parquetry timber floorboards. Back-lit red feature wall panels lining the outer wall of this room create a masterful synergy with the billiard table, in particular creating the impression that the fun need not stop here, but can extend both out and up towards the higher levels of the home. Upstairs, Gremmo has fitted out not just a bedroom, but a master suite complete with a baby grand piano, walk-in wardrobe and an ensuite laid in marble, framed in mosaic, and accessed through clear anodised glass sliding doors. This personal retreat indulges in the finer details, with intricate joinery and considered lighting that reflects a quiet gracefulness in the design, which elegantly contrasts with the vibrant public spaces downstairs. 
Another space that begs analysis is the alfresco living area. Here, an outdoor kitchen has been equipped with an oven, fridge and a teppanyaki barbecue to cater for the needs of every guest. Sit back and relax at a stunning dining table, which is backlit in blue to enhance the effect of the adjacent pool. Guests' eyes can roam beyond to lush greenery framed by the earthy tones of Sofala random quartz and landscaped in consultation with Defined Gardens, which worked to seamlessly integrate the function of the home and entertaining spaces with beautiful natural views. And when colder months approach, homeowners need not worry, with an outdoor fireplace at the ready for any occasion.
This home is not only an aesthetic marvel; behind the scenes, its inbuilt systems also work effortlessly to ensure a light-filled, spacious and comfortable living experience. It limits its environmental impact through its passive solar design and ventilation. To help minimise carbon emissions, automated programming ensures the home operates efficiently, with minimal wastage of resources. Collected rainwater and drip-feed irrigation of the garden take this home's environmental footprint down a few sizes. Gremmo Homes has certainly earned its reputation for masterfully crafted homes that are functional and beautiful, having built homes in the Sydney metropolitan area for more than 15 years. This home is no exception, with the team again delivering an innovative design concept through premium materials, fine finishes and a colour wheel refracting different points of view throughout.