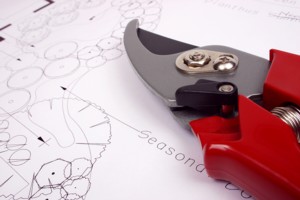 A modern dining podium is the centrepiece of this recently renovated garden
Story: John Beattie, MAILDM
Photos: Peter Brennan 
The owners of this site had a reasonably spacious L-shaped outdoor area, which due to the perimeter fencing had the feel of a large courtyard on each side of the house.
The existing condition of the landscape was one of neglect, which was entirely understandable. With retirement approaching and the children moving on, the owners' needs had changed and the outdoor areas hadn't been used in years.
The design brief basically made provisions for a reasonable-sized uncovered entertaining area, a water feature, planter boxes and a treatment of the boundary fencing. Also, the grass was to go.
Initial inspiration for the design came from a concrete slab tucked in the corner where two boundary walls met. It seemed like a good focal point position given the location of the existing doors and courtyard layout. It also made sense to use this slab as a base for a water feature to save costs. As it turned out, a new slab was necessary for structural reasons, but inspiration was drawn from the original slab, nonetheless.
Once a water feature shape and style was created, the rest of the design developed. This included a spotted gum deck entertaining area in front of the water feature and raised planters along the boundaries.
The existing levels allowed for a podium-type effect for the decking. This gives the area an added air of prominence while the steps, which face the house, introduce a nice sense of flow.
The bold purple of the walls and planter boxes contrast beautifully with the light colouring of the Aspenstone pavers and the richness of the timber, while the textured brushed finish softens the sharp lines. The result is a relaxed contemporary look without the need for 'slick' finishes.
The planter boxes had an important role to play, allowing the creation of 'spaces' within spaces. There are actually multiple areas of use in the one large courtyard, not all of which are shown here. In time, surrounding plantings will provide privacy from the neighbours. As the lilly pilly (Syzygium 'Aussie Southern') hedge grows, some spaces will be cut to allow glimpses of the coloured walls behind.
Two Manchurian pear (Pyrus ussuriensis) trees will, in time, provide the shade required for summer and provide a ceiling for the dining podium. Other plantings, including Philodendron, Convolvulus, Liriope and Dipladenia, add complementary colour and form to a high-impact garden design that is relatively low-maintenance.
About the author: John Beattie, founder of Outside View, is a landscape designer based in Sydney's southern surburbs.