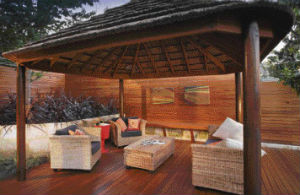 Functionality and fun go hand in hand in this colourful outdoor living project
These days we expect a lot from our outdoor spaces. It's no longer enough that they look good, although that is certainly important. We want them to be private, low maintenance and just as suited to entertaining as quiet reflection. In this instance, providing somewhere to do yoga was important, too.
Tired of having an uninviting, impractical backyard, the owners of this Perth property craved an easy-care, multi-functional space where clever screening would block out the neighbours and clever design would create somewhere for the pool cover to go.
The extensive use of timber for the decking, seating and screening gives the area a relaxed ambience which is reinforced by the thatched hut. By placing the emphasis on warm natural materials and textures, right down to the limestone block retaining walls and planters, the designer, Denise Staffa of Outside In, gave the area an instant lived-in look in keeping with the character of the house in Perth suburb Mt Lawley.
To further enhance this, she reused the existing sandstone paving around pool (simply laying it in a different pattern) and took the red brick pavers from another part of the garden and cut them into cobblestones which she used as an inlay.
Denise kept just two plants: a magnolia "Exmouth", which was integrated into the deck and seems to flow into the magnolia "Little Gem" planted around the pool, and a liquid amber which now sits amid an understorey planting of cordyline "Red Fountain".
The clever use of planter boxes and seats "suspended" from the retaining walls helped to resolve the level changes while strip gardens filled with mondo grass draw the eye away from the out-of-square pool.
Outside In supplied all of the artworks, including the weatherproof mesh wall prints and the fibreglass pot used here as an ice bucket. The illuminated pool lounge and pool balls are from Majool in Subiaco.
So where did the pool cover go? Inside the day bed by the pool! The winding mechanism is on the outside and the cover extends and retracts through a slot in the front. Now that's multi-functional.
Project details
Landscape designed and construction by Outside In 370A Canning Highway Como WA 6152 Phone (08) 9450 4922
Email enquiry@outsidein.net.au Website www.outsidein.net.au Photography by Ron Tan