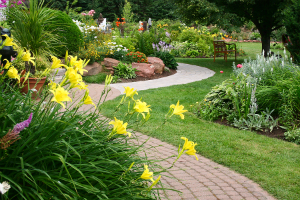 This Brisbane apartment makes the most of its elevated position and river-side location  
Story: Karen Booth
Photos: Glenn Weiss
A few well-chosen plants can make a world of difference to an apartment balcony. The key is to choose plants that can handle exposure to wind and sun, are suited to containers (which typically means slow growing) and are robust enough not to require too much regular TLC. 
Add to the equation some interesting pots, a sculptural element or two, a stylish, all-weather outdoor lounge suite or dining setting and the picture will be complete.
This penthouse apartment in an inner suburb of Brisbane lent itself to the use of hardy tropical plants. Much of the balcony is exposed to full sun year-round and one side of the balcony is north-facing.
To make a strong architectural statement, the design team from Palms for Brisbane chose the dragon's blood tree (Dracaena draco), a plant that originates from the Canary Islands and loves a sunny open position, and the soft-tipped yucca (Yucca elephantipes), a popular evergreen with sword-shaped leaves. A native of Mexico, the yucca is extremely hardy and drought-tolerant and adapts well to life in a container.
Although a restrained approach was taken to the plant palette, Cordyline australis 'Red Sensation', a hardy full-sun cordyline, was incorporated for its rich colour and lovely form.
Dense clusters of echeveria, a small, rosette-forming succulent, and Philodendron 'Xanadu' , known for its compact growth and decorative small-lobed leaves, were used where a low profile was required to preserve the view of the city skyline and the Brisbane River.
Other parts of the balcony are quite shady, either because they are east-facing or covered by a sail, which allowed for the use of lush- looking plants such as the lady palm (Raphis excelsa), with its shiny fan-shaped leaves, and Cordyline 'Negra', whose new leaves are green but with maturity deepen to black. Cordylines are a great complement plant to palms and many can flourish in low light conditions.
As a finishing touch, there is a cooling water feature set in a bed of white stones and bordered by mini mondo grass (Ophiopogon japonicus 'Nanus'), and a matching 'bed' boasting a decorative stone block, Buddha sculpture and potted plant.
When choosing pots, water features, works of sculpture or furniture for a balcony, be sure to find out the maximum weight your balcony can handle if you are planning anything major.