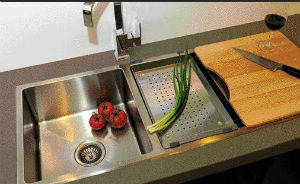 Making the right choice when choosing a sink just got a whole lot easier.
The kitchen sink is one of the most important elements in the space and if you want to ensure you make the right choice when creating your new kitchen, Tilo Tapware is the right choice to make. The Tilo Tapware Q4 sink range caters for those who desire a high degree of functionality and want to create a feature for their new home or complement an existing style.
Featured here, a mere 15mm radial corner as with some models, the Q4 sinkware range combines both modern design with up-to-date technology and is finished in a fine lustre. Flexibility is the key focus of the series with the options of single, double, under or inset/flush mounting and apron sink covering myriad individual needs. Drainage is also taken care of within the sink system via an accessory drain tray or flatbed draining options. Not only are Q4 sinks carefully designed and fabricated but each sink is constructed from either 1.2mm or 1.5mm 304 stainless steel. The sinks are even fitted with sound-deadening rubber pads to ensure the quietest kitchen experience you're likely to have. An anti-condensation coat not only allows the sinks to look pristine at all times but helps prevent the build-up of moisture in the cavity below the sink. The only hard work Tilo Tapware has not taken care of in this case is the difficult decision you now have to make when choosing a Q4 sink for your dream kitchen: which one?