Building a straw bale house is not that difficult, according to the owners of this stunning home in the byron bay hinterland.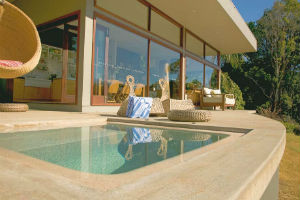 It's a tribute to Rachel Bending's can-do attitude that in 2004 she successfully established her fashion and homewares label as Australia's first carbon-neutral company. Flying in the face of an industry that's notorious for waste and social irresponsibility, she established her business using exclusively solar power and organic fabrics, handprinted using water-based dyes, with swingtags and cards printed on recycled paper with soy inks. So when Rachel tells you that building a straw bale house isn't difficult, that you just pile together the bales like giant house bricks, infill with straw, tension them together and render over the top, you believe her. In fact, she adds, you can master the basics in a weekend course. And then you just need to do an owner/builder's certificate course (another weekend) and the rest just falls into place.
Of course, you believe her, because Rachel and her partner, Cam, built this stunningly beautiful straw bale house in the hinterland of Byron Bay. In fact, Rachel has been preparing most of her life for this challenge, on a site that commands spectacular views of the northern NSW forest on an 80-acre (32ha) intentional community shared by six co-owners. She grew up in a small village in Wales and, after studying textile design in Scotland, enjoyed a brief but stellar career in London in event managing and advertising, before coming to Australia via India in 2001. She ended up in a co-operative community where she studied permaculture, built her first house and refined her notion of sustainability, which she applied to the market business that has evolved into Bird Textiles.
"My decision to join a community was probably driven by the fact that I had moved from the other side of the world and needed to find some like-minded companions," Rachel explains. "The six shareholders each have two acres (.8ha) for their home sites and the remaining 68 acres (27ha) is mainly rainforest or regenerating forest with some open space and internal roads. There are two levels of regulation governing buildings on the land: the local council and the community's neighbourhood management plan." This meant Rachel and Cam's house had a ceiling on the electricity it could draw from the grid (though most of the time they feed back rather than take out). The community is committed to buying the most energy-efficient appliances and to revegetating and maintaining the common areas.
Rachel chose Blue Architects to design the house because they offered flexibility as well as practical solutions. "I had nearly three years knowledge of the site, so it was important that the architects listened when I talked about when and where the wind blew and the sun fell. From planning to completion took almost five years, so I had very definite ideas about what I wanted and how the house should work." From the beginning Rachel visited the site regularly, establishing the orchard, garden and vegie beds, which are now bearing and give the house an established look. "It was worth the effort," she says. "Not just because we don't have to look out on a moonscape, but also because we already have constant supplies of vegies, bananas, seasonal citrus, figs, mangoes and heaps of other tropical fruit."
Orientation to the winter sun and protection from summer heat were essential to the passive solar design, as was a concrete slab for thermal mass to absorb heat in winter and stay cool in summer. "Straw bales are such good insulators that we can come in at the end of a winter's day and the house feels as if it has been centrally heated," Rachel says. "When we need to top up that heat at night we run an eco fire, which is basically a methylated spirits burner contained in a stainless-steel box. Because it burns clean, it doesn't need a flue. It's amazingly efficient." All the roof water is harvested, filtered and stored in tanks with a capacity of 50,000 litres to supply all the household's washing, drinking and garden watering needs. As well there's a 10,000-litre compulsory reserve for fighting bushfires and all greywater is filtered through a Lomandra reed bed and pumped onto an open area where it drains to water the surrounding trees.
"We have a Clivus Multrum composting toilet, which is completely odourless," Rachel adds. "I have read that a flushing toilet can use up to 60,000 litres of water annually, so that's our entire tank supply and obviously a major saving for the property. But water is generally not a problem for us as rainfall in this area is usually pretty reliable. Having said that, we did get down to our last three or four thousand litres during a dry spell last summer. A solar hot water system takes care of hot water, except after four or five days of cloud cover when they may need to use the electric booster. The oven runs on gas and the household's lighting and other electricity needs are supplied by six photovoltaics on the roof. "We have installed a gross feed meter so we can make the most of the electricity we generate," Rachel explains. "When funds permit, I would like to install more photovoltaics so we can earn even more from the electricity we feed back to the grid."
Plenty of natural light reduces the need for artificial lighting, which leaves the fridge and the water filtration system as the greatest power vampires. Forest Stewardship Council certified sustainable timber was used for internal fittings, and other timbers, such as the rosewood used in the kitchen joinery, were reclaimed and recycled. "We used low-VOC materials throughout and are always mindful of our footprint," Rachel adds. "We are blessed in this area with a bounty of local produce and can source everything from macadamias and coffee to organic chillies, blueberries and deli items. I'm pretty spoilt all round, actually, as Cam (who is the chef at Gaia, the wellness retreat owned by Olivia Newton John) brings home leftovers from the kitchen. Even our chooks get to share the good life, so we have a constant supply of flavoursome eggs as well. So, while we are not entirely self-sufficient, I'd have to say we seem to have the balance pretty much worked out."