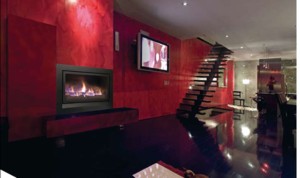 How have methods of heating the home changed over the past 10 years?
Jeff Collins: In Australia, gas has long been the ideal method of heating homes, primarily due to its low cost and continuous guarantee of supply, particularly in the southern states, which are generally a lot colder than the northern states. The gas systems used have moved from single-room heaters to ducted systems for whole-of-home heating, but there is now a trend back to gas log fires as well as ducted systems, thanks to the nostalgic value of seeing a flame that creates the ambience and romance that we all grew up with.
Nicolas Agnew: I'm sure that if you took a broad view of what the heating industry now offers you'd find a terrific array of innovative heating solutions. The Agnews business is very focused on specific heating product categories. We specialise in fireplace products that have a strong aesthetic value, as well as delivering good heating performance. Within our area of specialty there are two main forms of fireplaces: open-flame fire boxes and sealed fireboxes, where the flame is contained behind a glass panel.
Sandra Skelly: Heating options for the home in Australia have not changed much over the past 10 years, as the cost of using the heating has remained static. It is only now, with the rising cost of electricity and the environmental impact of fossil fuels being taken up by the general population that energy use within the home has become a design issue for most new homes and renovations. The major changes are to the insulation design of Australian homes, which have been designed in the past for an indoor/outdoor lifestyle over summer, with no thought for the cold of winter. With greater emphasis on the insulation of the home, the amount of energy required to heat the home over winter decreases. Annalisa Caronna: With the increase of energy running costs in past years, we have found a large sway towards zoned heating. This enables us to lay our heating element throughout the home with control thermostats per area, enabling the customer to heat their desired room at the time, saving equally on both running costs and energy consumption.
What new technology has surfaced for heating the home?
Jeff Collins: The most prevalent changes have been in the area of efficiency. This has been driven by the need to care for our environment, the ozone issues and more recently the introduction of MEPS (Minimum Energy Performance Standards) and the star rating system to encourage consumers to buy more efficient appliances. Most manufacturers in Australia have worked hard to develop high-efficiency products to meet this demand via heat exchanger technology, better flue technology and the use of electronic ignition systems.
Sandra Skelly: Some of the lessons of the colder countries of the northern hemisphere are now being implemented in Australia to provide energy-efficient heating. The technology is not new — the idea is around 2000 years old — but the Romans knew that heating a home needs to be from the floor up. Underfloor heating is the most efficient and effective way to provide a comfortable living space within the home in winter. It can be provided by electric cables in the floor or by the installation of a hydronic system for larger areas above 100 square metres.
Annalisa Caronna: The most significant change for us at Warmtech was the introduction of insulation and the vast improvement of our floor-heating cable. We can offer to insulate the top of the subfloor surface (concrete or timber) before laying our heating cable. This will reduce your heat loss (from the cold concrete subfloor) and therefore ultimately reduce your energy consumption and costs.
What are some of the pros of fires, underfloor heating and gas compared with other methods?
Jeff Collins: Real Flame gas log fires are all about creating the romance and ambience of yesteryear, as well as consideration for the environment. This led us to release three new high-efficiency fires in 2009 alone, which provide very efficient heating but maintain the beauty of natural flame.
Nicolas Agnew: The decision to include a fireplace instead of other heating methods is a decision to resolve factors other than just heating, whereas other forms of heating are largely invisible and do their job in the background. A fireplace is a focal point and central to the decorating mix. A fireplace always has a strong presence within the room even when it is not burning. It is that aesthetic impact that a fireplace has on the space and the ambience that it creates that will appeal to many homemakers. Choosing a fireplace rather than other heating systems is a decorating and, to some extent, a lifestyle decision that looks beyond just space heating.
Sandra Skelly: Traditional heating systems relied on a very hot radiant heat source that heated the room by the convection currents it created. Energy needs to be pumped into this system to gain the high temperatures required. Underfloor heating only requires a floor temperature of no more than 25 degrees, therefore the amount of energy required to generate this low heat will be less. The heat radiates gently into the room from every point in the floor, creating a comfortable living space without the drying effect of gas heaters and airconditioners or the by-products of unflued gas heaters. Electric underfloor heating provides a responsive floor heating system for smaller areas or individual rooms. For a total integrated heating system for a new development or large renovation, hydronic floor heating will provide the level of comfort required and options other than electricity as an energy source. Hydronic floor heating is hot water running through pipes laid in the floor. Unlike traditional central heating systems with wall panels where the water needs to be at 80 degrees Celsius, the water in the floor heating system only needs to be at 40 degrees and is totally invisible within the room.
Annalisa Caronna: Our undertile heating method works far more efficiently than central heating, fireplaces and gas heaters. Our heating works from the floor up rather than the ceiling down or from concentrated areas in the room. This provides you with an even radiant heat running over your entire floor area, leaving you with that satisfied feeling you get when you enter a warm bed on a cold winter's night.
Do you think there is a way to be eco-friendly and still heat the home effectively?
Jeff Collins: Definitely. As mentioned previously, there are many heaters on the market these days with high efficiency technology built in.
Nicolas Agnew: The developments in gas and wood-burning technology in recent years have been quite significant. The industry is very much aware of community expectations and its responsibility to the environment. The modern gas and wood-burning fireboxes are much more efficient than even those of a few years ago. They are able to deliver higher heat outputs with lower fuel inputs.
Sandra Skelly: There is no doubt the greatest amount of energy used by a household will be over winter. If a solar domestic hot water system is installed with an ability to dump excess heat to a pool, then two of the greatest energy uses in summer will be diminished. However, in winter, the From CHAZELLES Fireplaces, the Firebox D 1000 EPI with Manhattan. Warmtech. solar capture is small and for an uninsulated house the heat loss will be great, especially if constructed with an on-ground concrete slab. There is no way a solar system will be able to heat a house in winter without relying on the booster system. Therefore, what seems the ideal eco-friendly way to heat the home is really the most inefficient. At present, the most energy-efficient way to heat the home is by a natural gas boiler running a hydronic floor heating system over the four months of cold weather. The next most efficient is an electric reverse-cycle heat pump with a COP of three — meaning for every kW of energy used there is the equivalent of 3kW of energy out, so one-third of electricity usage to heat the home. Natural gas and electricity may not seem to be the ideal energy sources, or the most ecofriendly, but cutting energy usage over winter by two-thirds is, especially if there is no decrease in comfort. An additional thought is that once the pipes are laid in the floor, it doesn't matter how the hot water is created, so as more eco-friendly heat sources become available the system can be easily switched over. A lot of people are concerned about safety with heaters.
What developments have been made to keep heaters safe?
Jeff Collins: All Real Flame fires have secondgeneration safety features built in, either using Flame Failure or ODS (Oxygen Depletion Safety) systems to ensure our customers can use our fires with the utmost confidence.
Sandra Skelly: Underfloor heating systems are totally invisible within a living space, so there is no problem with safety as with some of the other radiant heating systems.
Annalisa Caronna: The most significant development in some heaters has been the introduction of an 'off' safety switch if the appliance falls down or becomes compromised. However, underfloor heating is completely safe. There is no exposed fan or flame and no hot surfaces to burn.
What are the differences between heating small and large spaces?
Jeff Collins: Our gas fires will heat areas from 20m2 to 100m2 of open living spaces, but the only way to heat an entire home is via warm-air ducted systems or reticulated hydronic systems.
Nicolas Agnew: If heating is your only objective, the selection process is pretty easy. The considerations are the same for a small or large space, but the mathematics works out a little differently. Find a system that delivers the best performance for the space, fits comfortably into the space available and complements the décor of the room. If you are trying to create a feature of your fireplace, heating performance has to be considered, together with a number of styling factors such as size and appearance of the firebox, appearance of the flame pattern and the ability to achieve the desired decorative effect with a surround and hearth.
Sandra Skelly: Small spaces are easy to heat and require minimal energy to do so. Bathrooms and small rooms are ideal spaces for underfloor heating, as they can be set so they do not overheat. There are many benefits to heating bathrooms with underfloor heating, other than just having a warm floor and a cosy air space: there is no impact on BASIX; there is no water build-up between the waterproofing and the tiles, so no mould; towels will dry without heated towel rails; there is no physical impact of the heating system within the small space of the bathroom as it is totally invisible in the floor; the bathroom does not leech warmth from the rest of the house when it is no longer the coldest room in the house; and, as the bathroom is small, the electrical load is small, meaning a low running cost for the comfort. Large spaces require more energy to heat and contain large air masses with draughts and large areas that leech heat, such as windows, ceiling spaces and floors. The more the large areas are insulated, the less energy they will lose and the calculation of the heat load based on the construction of the space will determine the amount of energy required to maintain warmth. In other words, the amount of energy required to overcome the speed with which the space loses heat.
Electric underfloor heating will provide heating to large spaces, but the energy usage must be managed so it provides the heating only when the spaces are being used, which can be controlled by a timed thermostat. However, the larger the space to be heated, the higher the electrical load, as the electric floor heating will draw up to 175W per square metre depending on the product installed. For very large areas, this can become too great and the hydronic floor heating system can become an affordable and energy-efficient alternative.
Nicolas Agnew: It is an exciting time in our industry, as new things are coming through to respond to lifestyle changes and the new building trends. I can mention a couple of examples. Compact Electrafyres have been a good solution for apartments and areas where building in a fireplace is not possible. Electric-powered heating systems that plug into a power outlet and have a real flame effect display — either freestanding or integrated in a mantel console — look attractive and effectively heat a mediumsized space. Electrafyres are a quick and costeffective solution for a problem space. We now have a selection of wood- and gasfired heating systems for use in outdoor spaces. As the trend toward alfresco entertainment spaces gathers popularity, these outdoor heating systems are giving people year-round access to their courtyard and balcony spaces. The new Heat & Glo vertical freestanding gas heater caters for small and awkward spaces. It can be flued vertically or horizontally and has a small footprint that allows installation just about anywhere. Styling is modern and sharp, proportions are compact and it works just as well as a stand-alone feature or integrated with the contemporary mix of furniture and appliances. Sandra Skelly: Designing a heating system for a new home can be as easy as providing plans to a floor-heating specialist. In some cases, the best results can be achieved by combining floor-heating technologies, so look for a company with access to all floor-heating products, with a qualified design team and a good history within the floor-heating industry.
Annalisa Caronna: Undertile heating has a quick heat-up and cool-down quality, perfect for the unpredictable Australian climate. It's also fantastic for people who suffer from allergies, asthma, psoriasis and dry skin, as there are no unwanted pollution particles flying around.