Life is made easy by intelligent design.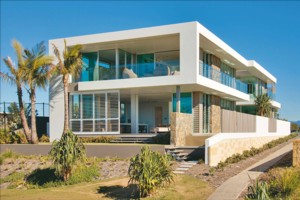 This Scott Carpenter-designed, Steve Kerr-built beachside split-level four-bedroom home is nestled comfortably in Salt Village at Kingscliff. Overlooking a 16-metre stretch of untouched coastline, it is arguably the perfect place to stop time and watch the world pass by. From a vacant block of land, Carpenter has created a refined residence inspired by a casual beachside lifestyle and principles derived from the 1930s modernist era. The outcome is a home that appears like a work of art from the outside and acts as a canvas for artwork on the inside, just as the client requested.
The triumph of the design is credited to Carpenter's ability to focus on the site's blessings (the stunning ocean views) and overcome its challenges (a narrow perimeter). His unwavering commitment to exploiting both the northern sunlight and the breathtaking surrounds in each bedroom and all living areas may have at first seemed foolish to some, but he remained undeterred and his vision of such a home was realised with an inspired floorplan that embraces five split levels. "By arranging the rooms over them all and subtly stepping each façade in and out, we were able to achieve the goal and also provide each space with a personality of its own," he reveals. The transient characters of the levels and rooms effortlessly flow from one into the next as the various areas have been carefully crafted to complement one another rather than to compete for dominance. "There are no favourites, nor is there a hierarchy of spaces," Carpenter confirms. "The success of the design comes from their integration and how they work as a whole to create one great generous space." This bond has been maintained throughout by the continual use of a selection of materials,all chosen for their low-maintenance properties, capacity to balance ambience with practicality and eco-conscious assets.
"The strong vertical lines and sleek horizontal forms are delicately balanced and softened by a varied textural palette of concrete, stone, weatherboards and chunky weathered timber," Carpenter says, adding, "floor-to-ceiling glass panels and shutters on each level showcase the natural beauty of the surrounds." And at the flick of a switch they can be retracted to completely open up the house and catch the summer sea breeze. It is one of the many inclusions to the home that alleviate the need for carbon-hungry airconditioning and/or heating; from concrete block walls and a reinforced concrete roof and floor system,  which offers incredible thermal mass, to eaves and verandahs with vigilantly controlled depths to shade the home in the warmer weather and welcome abundant sunlight during the crisper months. 
Scott Carpenter Architect,
43 Longboard Court, Salt Village, 2487. 
02 6674 0488
info@scottcarpenterarchitect.com.au