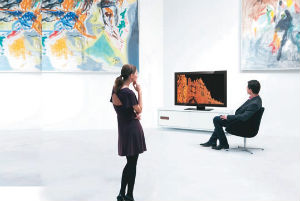 When it comes to how far home entertainment has come you probably don't have to look much further than Steve Dawson, a self-described 'technology freak' who put in his fi rst cinema more than a decade ago. "The fi rst system was part of the living room, but now I have a dedicated cinema, as well as a more informal one in the family room and am probably up to my fi fth projector," Steve said. But if Steve doesn't need much convincing when it comes to investing in the latest home cinema gadgets, he's been more cautious when it comes to adding home automation into the mix. However, that too could be changing. While only the dedicated cinema in his North Sydney home has intelligent lighting at this stage, most of the house already has automated curtains and he's lived with multi-room access to data, as well as streamed music and movies, for some time. "With two adults and four children in the house, fl exibility in terms of the Internet, fi lm and audio was always going to be a big need," Steve said. "But I can see we'll be using the Internet much more for all of our entertainment soon and that will mean a whole new way of doing things at home."
Smart cinema, smart home
It's a decision most of us will soon share.
The partnership between technology, entertainment and the whole house is certainly on the rise, putting pressure on homes to be able to seamlessly handle fast broadband, rich digital content, and an array of smart gadgets and services. According to the technology retailers, architects, designers and installers, the need to connect and control all these components is a major reason why more clients are looking at greater house intelligence when they install home cinema. "Certainly that fi rst experience with someof the high-tech features of home cinema seems to tip people in the direction of greater home integration," Adam Merlino from Audio Connection said. "But making sure the connection between the technology and the person using it is as simple and easy as possible is something we see as crucial to the whole experience." Of course, the other benefi ts of a wellconnected home — convenience, comfort and lifestyle — are still just as compelling. And upping the ante more recently is the growing awareness that smart home technology can also be very green when it's used to manage energy and water usage. "It makes a lot of fi nancial sense to put in a broader technological backbone when you're building or renovating," Bill McLean from McLean's Smart Homes said. "The sort of features you may want for your home cinema, such as the ability to manage lighting and heating at the touch of a button on a central remote or to check security cameras on screen, are just as practical in other rooms as well. "Certainly, just being able to stream music and movies to bedrooms, the kitchen, bathroom and even the outdoor patio makes the extra eff ort more than worthwhile," Bill added.
The home-wide web
At its heart, a smarter home — and you'll hear terms such as connected, intelligent, digital, automated, integrated or networked thrown around as well — is all about control. Today's technology allows us to link and program all sorts of gadgets and appliances, all managed via one central hub. The control of lighting, heating and cooling is already well known, but the list keeps on growing and these days a home can remotely manipulate windows, doors and even appliancessuch as fridges, to name just a few. In fact, there's a growing global movement to support the "Internet of Everything", a vision of the world where most objects can be recognised online using technologies such as Radio Frequency Tags. This is already happening with food, but someday could just as easily be embedded into our clothes, furniture and, yes, possibly even us some day. Broadband growth is certainly helping to push this along. Respected US research group ABI recently predicted that the spread of broadband — global subscribers now number more than 400 million — will fuel a much bigger uptake in home automation, saying they expect today's fi gures to have doubled by 2013. It helps that along with most technology trends, a home with IQ is also getting simpler and cheaper to achieve. You can create some version of a networked home using wires, wireless, power lines and Internet Protocol (IP), or, as is increasingly happening, mix a number of them together for the best fi t. While a home that has been wired with high-speed cables such as Cat 5 or 6 is generally seen as the most reliable and secure — especially when it comes to the future of very fast broadband and large fi les such as high-defi nition movies — IP is the bright, new kid on the block. IP puts all of your home systems on a network, giving each gadget its own IP addressso that control can be done over any webenabled device — think smart phone, laptop, or web-enabled tablet — and from anywhere in the world. That sort of innovation is expected to raise the stakes in home automation even further, with Apple, Nokia and Panasonic already tilting mobile phones toward the trend. Nokia, for example, has a complete Home Control Centre solution that lets users manage their home automation system through a web-enabled mobile browser. According to David Small from Amber Technology, IP technology is defi nitely the vision for the future. "We're seeing a lot more products in home cinema and home networking come with an IP potential," David said. "Not only will it make managing and upgrading them easier because it can be done online, but clients can access them remotely."
The way we watch now
It's a trend that's certainly right in step with home cinema as the rush toward networked media — downloading the unlimited resources of the web to our living rooms, televisions and screens — becomes a stampede. Not only are most television makers now off ering straight-to-screen Internet connections in preparation for easier movie download options, but the entertainment and technology companiesare forging all sorts of deals to try to get new and old movies into our homes as easily as possible. One of the latest innovations has been the move to link DVDs to the Internet. Using a technology called BD Live, viewers can chat to others in real time via text boxes on the screen, turn the movie into online collaborative games, insert personal comments into special scenes, or even contact the fi lm's directors and actors via email. It's still early days for the technology, of course, but both Disney and General Electric have been experimenting with BD Live, Blu-Ray highdefi nition discs. In fact, GE recently organised for people in the states watching a BD Live disc of Hellboy 11 — The Golden Army to be able to send questions direct to the fi lm's director, Guillermo Del Toro, as they did. According to Walt Disney Studios Home Entertainment, the fi rst BD Live-enabled DVD here in Australia will be Sleeping Beauty in September or October this year. You can also expect a lot more fl exibility in the way you buy movies, with lots of options in the wings for downloading to phones and smart cards from specialist movie kiosks that will have access to huge catalogues of material.
I've looked at clouds from both sides now
One of the most important changes that will aff ect our home cinemas will be access and downloads from online storage services and retailers — a process that's often called 'Cloud Computing'.While this has been a growing trend for the storage of data and the use of software for some time — Google and Amazon have been in this area for a while — it's now looking like it might well be the way Hollywood and other media-type companies opt to off er digital entertainment in the future. It's also likely that instead of storing DVDs and CDs in servers at home, we'll simply save them in the clouds, able to access them from wherever we are and to whatever device is handy. According to Len Wallis from Len Wallis Audio, the company behind most of Steve Dawson's home cinema makeovers, in fact, this is the way of the future for home entertainment. "Technology comes in waves and soon we'll be accessing and storing our music and movies online rather than in servers at home for greater security and convenience," Len said. "It just means that a home with more integration of technology will be in a better position to take advantage of the coming home entertainment options than one that isn't."
Star wars
None of these developments is being lost on commercial cinemas, of course — or on big movie studios — who still want us to go outto the movies. As a result we may be entering something of a battle for our hearts and wallets, especially if budgets get tighter. Home cinema has responded by making the experience even better than ever, by increasingly marrying new technology, performance and design: movies in digital, high-defi nition formats that redefi ne fi lm quality; multi-channel, surround-sound audio that plays up every nuance; huge screens; beautiful components and even tailored sound-proofi ng solutions such as those off ered by Boral's CinemaZone. Sound, in particular, has seen major advances and is now a priority for consumers after years of being dazzled only by big screens. Not only have speakers become much smaller and more stylish looking, but the ability to hide them in cabinetry or into walls has been matched by even better sound. The environment hasn't been forgotten either. A company such as WC Wedderspoon, one of Australia's oldest audio-visual distributors, believes a green performance is just as important, with the German T&A speakers it imports committed to non-toxic materials and only plantation timbers. Home automation is also stepping up to the screen, adding options to create a pictureperfect environment through programmed, one-touch management of lights, curtains, internet access, climate control, and multiroom streaming. Better still, all that technology will let you monitor and manage features in other parts of the house while relaxing in front of a movie.
The best seat in the house
"It's all about delivering an immersive experience these days," said Carlinea Williamson from Herma, the projection and screen technology company. "The public is much more sophisticated about audio-visual issues now and the home cinema market is making sure the products and services are there to meet their expectations," said Carlinea. "The move towards wide screen, or anamorphic, fi lm quality is just one example of that as the options for a great fi lm experience at home keep on rising." If recent — and predicted — moves by US commercial cinemas and Hollywood studios are anything to go by — more luxurious theatres and movies chock-full of highdefi nition, 3D and holographic special eff ects — then you can expect that home cinema will only get better in order to compete. But as Steve Dawson made clear, home cinema could already have the best seat in the house. "We still go out to the movies from time to time," Steve said, "but the quality at home is a lot more enjoyable."