Internationally renowned contemporary designer Karim Rashid's design for the Hotel Room of the Future is in his words "exciting and poetic with a touch of eccentricity."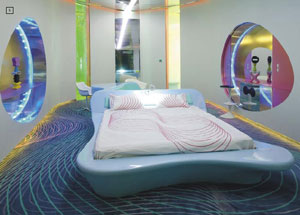 Commissioned by Dubai-based international interior and hotel specialist Depa United Group, Karim Rashid created a concept which forms part of its Signature Collection of 14 individually designed five-star hotel rooms.
A hotel room should be about efficiency and inspiration, we are moving into a physical age where we want a sensual experience. We also want to feel comfortable when we enter a space, this is a friendly and comfortable room," said Rashid.
The room has no corners, making it easy to clean. Corner units house the bathroom and closet and the surrouding glass can be set to clear or opaque, while serving as a TV screen at night.
Thirty five square metres of 100x10mm stack mirror finish stainless mosaic tiles feature in the room, supplied by Australian company Alloy. Alloy's Sydney-based design director, Jonathan Worner, has visited Rashid's New York offices several times and has worked directly with him to develop custom-designed tiles for specific projects.
Worner commented, "It is very exciting to have our tiles selected by Karim for the Hotel Room of the Future installation. His work is always closely followed and we are particularly interested in his ability to create truly unique work that focuses on the design language of the future and not the past."
The first company to conceptualise and produce stainless-steel mosaic tiles, Alloy has become an internationally-recognised company with a highly distinctive range that includes stainless-steel, copper and brass tiles in a large variety of sleek finishes and sizes. Alloy tiles adorn the homes of many high-profile names including Steven Spielberg and Celine Dion, as well as designer hotels such as The W Hotel in Chicago. There was even a star turn on the set of Will & Grace in Grace and Leo's apartment!
Room general manager of Depa, Vulvia Fontanot said, "Karim talks about what he calls the 'new casualism', the desire to feel free, open and relaxed, without boundaries or sharp edges. Human behaviour, personal experience and local cultures influence his designs and there is clear but subtle evidence of that in his contemporary designs, which will no doubt set the trend for regional hotel interior design."