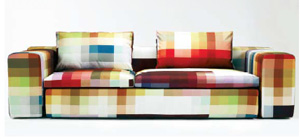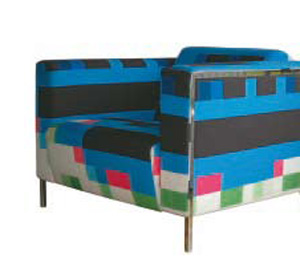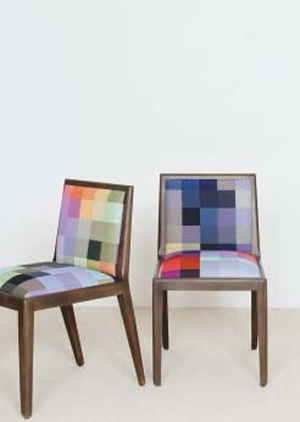 Hailing from Barcelona, Cristian Zuzunaga is a globe-trotting, graphic and print turned textile and fabric designer. He studied in London at the London College of Communication and Royal College of Art, his style stemming from the use of traditional print techniques which focussed on geometric patterns and shapes and experimentation with a unique use of colour. His designs have evolved from the use of these traditional methods and progressed into the digital realm.
Cristian's unique outlook helped shape his design processes and creative thought, drawing on influences from the likes of Carl Gustav Jung and his theories on dreams, collective subconscious and alchemy. Technical influences come from other artists and designers — such as Jonathan Saunders, Paul Klee and Piet Mondrian — and great metropolises such as Shanghai, New York and Tokyo, along with the integration of digital technology into the urban landscape and the organic interplay between society and the urban environment.
Cristian's movement from topographical print and graphic design was influenced by a trip to Shanghai and the city's explosive night life. "I spent time in Shanghai and was struck by the expression of our digital age. By night, buildings are giant plasma screens — an interplay of shapes and colour."
Since then, Cristian has been using photos of modern buildings, cityscapes and urban environments that catch his eye, reducing the image to its fundamental geometric element: the pixel. He uses the unique patterns that emerge as the focal points of his experimentation with shape, depth and colour, exploring a personal narrative within his own work.
He views cities as living entities with an intrinsic link between the urban cityscape and those who live within. "My work focuses on the symbiotic relationship that exists between mankind and its urban environment. I have been exploring the city as a gravitational force that pulls us towards it.
"I like to think of this method as a kind of alchemy but with colours and shapes instead of transmuting metals. My alchemy is about extracting and reshaping thoughts and ideas, like the urban landscape; something familiar but out of context, abstract."
These influences have shaped Cristian's design style, culminating in his current work. An example? The pixels on a computer screen projected onto scarves and sofas, bringing elements of the exterior world into the intimate interior.
The term "Pixel Guy" gets thrown around, much to his chagrin. "I do more than just make coloured shapes — this is my stage at the moment, a period of distillation and focus."
Cristian's philosophy not only influences his creative processes, it drives him to collaborate with other designers. "Personal interactions dictate the way the creative process grows and evolves. Each collaboration brings something new." This has lead to the opportunity to work on a variety of canvases with esteemed international partners such as Balmacz, Ligne Roset, Kvadrat and Moroso.