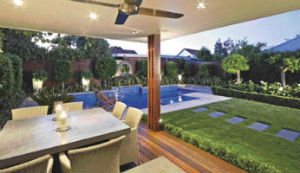 Spacious, inviting and oh-so luxurious, this stylish pavilion is every entertainer's dream
A Melbourne family's desire to maximise the amount of time spent outdoors was the inspiration for the creation of this functional outdoor living space, which revolves around a contemporary, custom-designed entertaining pavilion.
By locating the pavilion adjacent to the pool, garden designer Justine Carlile has ensured that the outdoor dining/living area offers tranquil views, either of the pool or the garden. By orienting the pavilion to face north and west and incorporating extended eaves into the roof, she has ensured the provision of maximum shade during the summer.
The immediate area around the pavilion contains a tasteful mix of Japanese sago palm, dwarf mondo grass, kaffir lily and English box. Opposite, across the central lawn area, is a row of well-formed mophead acacia under-planted with green arum lilies and bordered by a low-level box hedge.
The pavilion certainly contains all the essential ingredients of an indoor dining room such as a stainless-steel barbecue with matching stainless steel rangehood, preparation and sink areas, a fridge and a large central food presentation bench. The eight-person square dining table, with a colourful uphostered bench, sets the scene for elegent yet relaxed dining.
Natural and recycled materials feature prominently in the construction of the pavilion with recycled warf timbers used for the triple-layered columns and wide spotted gum planks for the decking. A single bluestone slab mounted on recycled wharf timber forms the central food and beverage serving bench.
The zone between the house and the pavilion is paved with bluestone with a canopy of non-fruiting ornamental grapevine above providing shade in the summer and a magnificent blaze of red and burgundy in the autumn. A row of New Zealand flax complements the grapevine canopy and draws the indoor living area into the garden.
All design objectives have been met in this delightful garden where softscape and hardscape have been tastefully blended. The pavilion ensures that the inside of the house is successfully integrated with the garden to achieve an outdoor living space that holds endless appeal for the family.
Justine Carlile Landscape Design
Tel: (03) 9533 1522
Mobile: 0417 118 593
Email: justine@carlile.net.au
Website: www.justinecarlile.com.au
Photography by Patrick Redmond