While outdoor entertaining has always been a great Aussie pursuit, the frenetic pace of life in the 21st century has had a material impact on the evolving sophistication of outdoor living.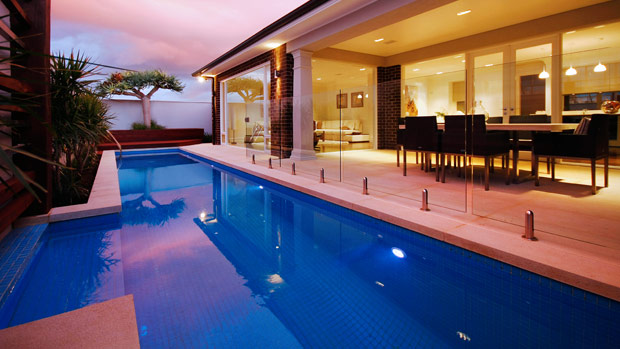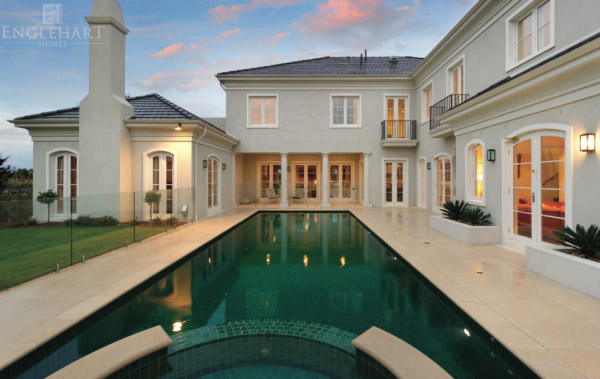 Given that time is the one thing most people have much too little of, it's hardly surprising that casual entertaining has eclipsed "all things formal and fuddy-duddy" with traditional dinner parties (for the most part) relegated to a bygone era. Unsurprisingly, the net effect is increasingly being reflected in the overall design of new homes. The space previously dedicated to a formal dining room is being morphed into a cooking, eating and entertaining zone. As part of this metamorphosis, the line between the indoors and what lies beyond is becoming increasingly blurred. Welcome to the era of the alfresco living space. Having had its rustic origins in the backyard brick barbecue furnace, alfresco living has been increasingly mutated from portable charcoal barbie, plastic tables and chairs, to shade sails, pergolas, verandahs, patios and beyond. And at the premium end of alfresco living's evolutionary curve is the quintessential indoor/outdoor room. Fully roofed and enclosed on two or three sides, indoor/outdoor rooms are being taken to increasingly new levels of sophistication. It's not uncommon for these rooms to be adorned with anything from spa and fancy furnishings to home theatre, kitchen appliances, and an array of modern gadgetry such as pizza ovens previously only found inside the home.
Integral design: 
After building homes with undercover outdoor living areas for at least 15 years, the people at Adelaide-based Medallion Homes say the accent is now on quality. Over the past two years, Steve Sinclair, sales and marketing manager with Medallion Homes, says he's witnessed growing demand from the mid to upper housing market for outdoor living spaces that are an integral part of the overall house design. "A growing number of clients (building new homes) want the quality of the outdoor area to be of a complementary standard to the indoors," says Steve. "Unlike years past, clients now regard their outdoor space as very much the adult's area" Steve says while an alfresco living area has become a mandatory inclusion within every new home they build/design today, the size varies dramatically, from a minimum 3x5sqm (the minimum space for table and chairs) to quantums on this size. And with cashed-up baby boomers often moving into smaller-sized properties, he says the need to optimise the outdoor living space becomes even more acute. "A fireplace (such as Jetmaster gas/wood fires) or skylighting is often added to extend usage well into the cooler months, which means an alfresco living area can be used for up to nine months of the year," advises Sinclair. 
Instead of being overly influenced by the resale value, Richard Gremmo of Sydney-based, custom-home builder/designer Gremmo Homes says people are finally more interested in creating indoor/outdoor living areas that best complement their lifestyles. By incorporating it within the overall home design, all-too-precious backyard space has gone from an ever-diminishing patch of grass, where little ever happens, into a space that gets regularly used. "From a design perspective, nothing is off limits now, with people wanting to incorporate different themes," says Richard. "However, what's common to these themes is the even-flow effect that people want between the indoor and outdoor living areas, and integral to this is seamless flooring between inside and out."
Start right: 
So what's the key to successfully incorporating the alfresco living area into the overall design? To ensure that what starts right ends right, Eric Pagnozzi, design manager with Medallion Homes, says it's important to ascertain within the overall plan the correct siting. And while ideal site orientation is rarely perfect, he says the site plan (for any outdoor room/space) should maximise the natural elements such as sun, views, water flows and the prevailing winds. When designing a new home that incorporates a pool, spa or water feature, Eric says it's important that this area is the first piece of the puzzle around which the indoor/outdoor area is correctly located. He says clients' growing preference for outdoor rooms that are an extension of the interior (instead of an open verandah) displays a clear gravitation away from less-temporary outdoor structures. More often than not, he says clients want a more permanent structure, where the layout and materials resonate harmoniously with the overall home design. "But whether to opt for an airy or more permanent structure must be decided on a case-by-case basis, and people must factor in how much maintenance they want," advises Eric. "As a case in point, a shade sail may be appropriate for a beachside property and may create a better aesthetic outcome." He says while the primary goal (of any alfresco space) is to create an outdoor area on the northerly/eastern side, the number of walls is often determined by the wind factor. "Two walls and two open sides is typically an ideal scenario for an outdoor room as it maximises both outlook and visibility to a pool and/ or kids' area, while enhancing natural light," says Pagnozzi. "And a lot of the time an open verandah will extend beyond the roof area to maximise the sun."
Complementing the elements: 
According to Richard Gremmo, only once it's known what shortcomings the siting of an alfresco room will encounter can the correct overall solutions be chosen to best complement the natural elements. He cites his company's latest display home at Bella Vista Waters in Sydney's hills area as a case in point. He says the home's northerly aspect to its rear provided a fantastic opportunity to capture light with the abundant glazing. This theme was successfully extended into the alfresco living area through clever sky-lighting, with clerestory (upper row) windows adding extra ventilation. "Used as a cladding feature for the façade, Sofala random quartz extends into the alfresco areas, with its earthy tones juxtaposing the contemporary rendered wall and glazing treatments," says Richard. An operable (Vergola) roof, equipped with sensors, also meant the alfresco room could be opened up for midday sun and automatically closed up at the first sign of rain. Taking full advantage of Sydney's wonderful climate, the alfresco area's outdoor kitchen encompasses oven, fridge and teppanyaki barbecue. "Correct orientation ensures that guests won't be left unattended while relaxing by the stunning dining table that's been back-lit in blue to complement the adjacent pool," says Richard. "Entertaining in winter hasn't been neglected either, with the sunny northerly aspect, outdoor fireplace and Vergola ensuring the harsher elements won't interrupt the outdoor lifestyle."
Natural materials: 
While Vergola roofs are growing in popularity, Sue McDermott, sales and marketing manager with Melbourne-based Bellemore Homes, says natural materials such as stone and recycled timbers, notably jarrah and red gums for flooring, are popular materials for alfresco rooms. And with energy-efficiency having redefined Australia's social conscience, she says recycling, low-maintenance qualities and water compliance are also strong drivers of materials selection. "There's a huge flux of new materials now available and people are trading off eco-friendly aspects with cost, and that's one reason why things such as mosaics feature prominently within alfresco areas," says Sue. "Similarly, people still like steel cords for hand rails, glass for outlook areas, and while plantation shutters are still popular, they remain a more costly option." Sadly, Sue says when new homes come in well over budget it's the alfresco area that typically gets cut.
Nevertheless, she says it's important that it remains an integral part of the overall design. "This ensures that when subsequently added, the room (patio or similar) will harmonise with the rest of the house," she says. Sue says the "wow factor" people invariably look for within their outdoor room comes down to personal taste rather than being attributable to any single feature. However, she says personal taste is invariably a variation on key themes around aesthetics and functionality. "These typically include the way bi-folding (or stack-back) doors create a seamless flow between the inside and out, and how the room relates to the overall look, including the indoors, pool and surrounding landscaping, especially given the site you're working with," says Sue. 
It was the contours of the block on its private custom-designed project at Newport in Melbourne's north that gave the alfresco area a unique design. "Given the height and orientation issues, the upper area is an extension of the roofline, and to maximise light into the adjoining studio and master bedroom, it remains completely uncovered," explains Sue. To maximise natural light on the lower level, it is walled on only two sides, with a large amount of open-air decking extending well beyond the covered area. "The beam work on the uncovered deck area creates afternoon shadowing without detracting from the light," adds Sue.
Taking cover: 
While 90 per cent of clients want covered outdoor areas, Zol Nagy, principal of Nagy Design, says having too much covered can create five-star energy rating issues, especially in a "heating" climate such as Melbourne. And given that the outdoor room often turns into a "bloke's cooking zone", he says it's also important this space adequately compensates for poor natural ventilation with fans to quickly expel smoke and lingering smells, especially after barbecue cooking. And if alfresco areas are going to be the bloke's cooking domain, Zol says they should also be easy to maintain or they can start looking pretty shabby very quickly, with lingering smells and food scraps becoming a haven for insects. "I don't like these spaces being enclosed, especially if they're too small, as they create dark little nooks that resemble tacky addons," says Zol. "It's a much nicer effect to get the outdoor area designed into or complementary with the existing roofline." While bi-folding doors can add to the romantic ambiance of a space, Zol warns that they're often an impractical solution for keeping away those pesky flies and mosquitoes, and can warp in certain climates. And while most of his clients do insist on bi-folds, he says sliding stackers are not only cheaper, they're less likely to slam shut, with their lighter frame providing greater visibility.
Design challenge: 
Although having a seamless floor level between the inside and outside may have greater aesthetic appeal, Zol says it isn't necessarily the most practical. Even where there's three metres of roof cover, he says there are extreme weather conditions when driving rain can still get into the house. That's why he decided to create a 20mm step-up between the inside and the alfresco area designed for a client's bayside property at Aspendale in Melbourne. Owing to the particularly small dimensions of this terrace block (11.3sqm wide by 30.4sqm deep), Zol says that incorporating two stories, a basement car park, and an alfresco living area posed some significant design issues. "The best solution was to extend the space to the absolute boundary line. And by wrapping it around the front right-hand side contours of the property, sufficient space was created for an outdoor kitchen unit equipped with sink, built-in barbecue and glass-fronted fridge," advises Zol. To maximise limited space, the pool and spa area run east-west, with the LED-lit, slump-glass screen on the pool's outer side forming the boundary wall while sheltering the property from prevailing ocean winds. "The slanting roof, together with the plantation shutters (that run across the bi-folding doors), protect against the westerly wind while creating extra privacy at night," advises Zol. To help enhance a seamless indoor/outdoor flow, the spotted gum (hardwood) flooring was extended from inside the house into the outdoor space — which is offset by cedar ceiling cover and batons. And by having the bi-fold doors open away from the corner of the house, Zol says the entire space could be opened for maximum sunlight and ventilation. "The client was attracted to the hotel resort feel, and when you walk through this house into the alfresco space there's a great sense that you're in another world," says Zol. "While outdoor areas need to be functional, there's a strong trend towards creating 'cool spaces' that take you to another place."
Loggia effect: 
Given that a traditional alfresco living space would have excessively compromised the floorplan and passage-way of its display home at Balwyn North in Melbourne's inner ring, Englehart Homes opted to create a loggia (Italian-styled open-sided roofed area) instead. "Opting for a more conventional alfresco space would have meant making the size wider and longer, whereas a loggia arrangement allowed us to stay within more traditional zoning to floorplan," advises managing director Ron Englehart. "But to do that we needed to incorporate a projecting roofline." He says by projecting the eaves right out on this (Frank Lloyd Wright-inspired) singlestorey home, one area effectively flows into another to create the classic indoor/outdoor feel. Incorporating the loggia into the overall floorplan means the kitchen starts indoors and finishes up outside. "Choosing bi-folding half windows, full-height (240cm) adjoining (fourmetre- wide) bi-folding doors, and an opposing built-in extended bench helps create the feeling that the kitchen is very much part of the outdoor environment," says Ron. Adjoining the barbecue area is a space that provides sufficient room to house an eightseater table. And rather than duplicating the formal dining inside the home, Englehart says the outdoor dining arrangement is sufficiently versatile to be dressed up or down depending on the occasion. While the loggia within the Balwyn North property (unlike a more enclosed alfresco space) remains fully open on three sides, Ron says it cleverly takes advantage of the north-facing rear garden. "But the extensive teppanyaki barbecue grill arrangement with surround seating and reconstituted stone work does create the feeling of a second wall," Ron says. To further enhance the seamless indoor/ outdoor feel, wideboard spotted gum (hardwood), chosen as loggia flooring, is level with the porcelain tile used inside the home. And in addition to providing that natural look, Ron says timber flooring also minimises dampness issues from outdoors to indoors. As a general guide, Ron says to create a loggia large enough to successfully integrate outdoor living, a kitchen and family area usually requires an overall property size to be around 16-17sqm wide by 36sqm long. And due to restricted space on the Balwyn North home, it was decided that the loggia wouldn't incorporate an outdoor fireplace. "However, by incorporating less space-demanding café-style heating, this loggia can comfortably be used at least nine months of the year," says Ron.
Communal spaces: 
Attempts to link public, communal, private and semi-private spaces has seen designers at the premium end of the apartment market take outdoor living to new levels of sophistication. Arguably pushing the envelope on outdoor living spaces are multi-tower apartment projects such as Reflections Tower II (at Coolangatta) and soon-to-be-completed Nirvana by the Sea (at Kirra beach), both of which were designed for Niecon by Melbourne based Omiros One Architecture. According to Omiros Emmanouilides of Omiros One Architecture, the lifestyle accent was on creating resolute outdoor spaces that connect meaningfully with the end user's lifestyle. He says while designs adopted within Nirvana and Reflections Tower II are reminiscent of resort-style hotels, the primary purpose is creating spaces that better reflect the way people want to live. "Linking different areas offering varying degrees of privacy is all about creating constant and defining statements about the lifestyle of residents within these premium apartment projects," says Omiros. "The end result is generous internal areas that blend seamlessly with expansive outdoor space and breathtaking horizon views." He cites both Reflections Tower II and Nirvana as cases in point, where residents can either enjoy the privacy of their very own plunge pool or the semi-privacy of a penthouse pool equipped with shared dining/ entertaining facilities. Alternatively, he says residents can enjoy the more communal surrounds of the lap pool on the podium level with adjoining communal water garden, and executive lounge facilities. "Boasting magnificent views of the Pacific coastline, exclusive-use penthouse apartment pool areas within Reflections Tower II incorporate a covered teppanyaki grill kitchen, an uncovered dining area, and an adjoining atrium."
Medallion Homes,
251 Glen Osmond Road, Frewville, SA 5063.
08 8338 2325
http://www.medallionhomes.com.au  
Gremmo Homes,
First Floor, Unit 1, 7-13 Victoria Avenue, Castle Hill NSW 2154. 
02 9894 1633
www.gremmohomes.com.au/ 
Englehart Homes,
796 High Street Kew East Victoria Australia 3102.
03 9810 2800 
http://engleharthomes.com.au/ 
Bellemore Homes,
1st Floor, 2 Centreway, Mount Waverley VIC 3149.
613 9887-8984
www.bellemorehomes.com.au
enquiries@bellemorehomes.com.au
Nagy Design,
Building 4, Suite 52, 195 Wellington Road, Clayton, Victoria, 3168.
03 9574 8833
http://www.nagydesign.com.au/
Omiros One Architecture,
Ground Floor, 639 Little Bourke St Melbourne, VIC, 3000.
03 9670 8899
info@omiros.com.au