From necessity to luxury the bathroom is one of the most necessary rooms in the home.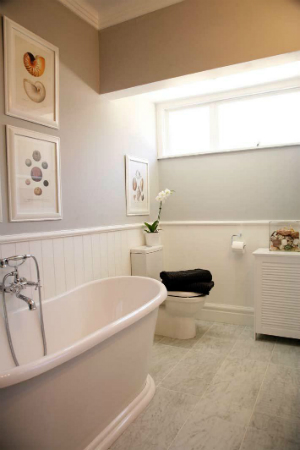 While we could do without media rooms, offices, gyms and other luxuries, the bathroom is up there with the kitchen and bedrooms as one of the essentials in any home. At its most basic, a functional bathroom includes a sink, toilet (either in the main bathroom or separate) and shower.
However, a basic bathroom void of all decoration and luxury is a boring space indeed. It is surprisingly simple to transform this basic amenity into a luxurious haven where you'll want to relax and pamper yourself (essential in our stressful modern lives!).
Whether you've got the budget to completely renovate your bathroom or you're trying to work with a non-functional space, or you simply want to update what you have, it's possible with a few decorator touches.
Start with the basics:
If you're looking to update your bathroom, consider what you have, what you need and what your budget will allow. If you are doing a complete renovation, many decisions await you and you will no doubt be spending a lot of time researching how to make your bathroom functional and beautiful. In addition to the necessities mentioned above, you may also want a roomy cabinet to store toiletries and a bath or spa to relax in. Once you've got a floorplan worked out, you also need to consider the style of fixtures and also finishing touches like tiles and paint.
If you're looking to simply update or make your current bathroom more functional, a couple of things to keep foremost in your mind are colour and storage. A neutral colour palette is ideal in the bathroom. Most of the time fixtures are white, so choose a colour that will go well with white. White, cream and beige are all nice neutral choices, or you could follow the water theme and add some blue, aqua or green. Paint is one great way to update a bathroom or you can simply rely on accessories to bring colour into the room.
There are a few things that really need to be stored in the bathroom; toiletries, makeup, medications, towels, spare tissues and toilet paper, to name a few. If you have limited storage, it can be extremely frustrating. Baskets and boxes (as long as they're waterproof) are a great way to discreetly store bathroom necessities. If you have no vanity, it may be worth investing in one even if you don't renovate the entire bathroom, but if that's not an option, perhaps a wall cabinet is.
Towels can be stored on shelves or in baskets, and can often become a feature in themselves. Decorative shelving can be both pretty and practical, offering a place to store a collection of perfumes or glassware. If you're tight on space, hooks on the back of the door can be used to store anything from towels to robes and even to hang jewellery while you are bathing.
When you're looking for storage, be creative and open-minded. You may find appropriate storage in other rooms of the house. Ladders or saucepan racks can be repurposed for bathroom storage, and boxes or baskets can work in any room.
Dress it up with details:
Once you have the basics sorted out in the bathroom, it's time to add the special touches that give this room style and class. If you look closely at the image above, you'll realize that much of the charm in these rooms are with the finishing touches – the pictures on the wall, flowers in vases, glass bottles and jars on the vanity.
Consider the décor in the rest of your home and decorate your bathroom in keeping with everywhere else. It is important that the bathroom coordinates with the rest of your home and doesn't end up looking as though it's from another time period. If you adore flowers, bring florals into your bathing space – either with prints, floral shower curtains, fresh flowers or beauty products in delightful flower packaging. If you prefer the clean, fresh look of pure white, stick to a white décor, using texture to add interest rather than colour.
Again, when seeking the perfect decorator pieces for the bathroom, think beyond the bathroom section of the hardware store. A collection of plates can make a striking arrangement on the wall, or those prints you were tiring of in your bedroom might be the perfect thing in the bathroom. Bring a few vases out of the sideboard and make them a feature on the vanity, or choose your beauty products based on their packaging and put them on display instead.
The bathroom is far more than a necessity. With a little planning and some stylish decorating, it will become one of your favourite places to spend time in.