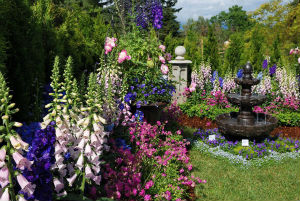 The 2008 Melbourne International Flower & Garden Show featured some exciting new designers and, as always, offered a glimpse of some exciting new directions in garden design. There was, literally, something for everyone in terms of landscape design — from classic country gardens and urban courtyards with a kooky, modern spin to resort-style entertaining spaces and children's gardens – and everything in between. 
The internationally renowned show was proof, if proof was needed, that Australian landscape design is in good hands. Tougher climatic conditions inspired many designers to invent new ways of creating stimulating outdoor spaces. Similarly, the dwindling size of our outdoor spaces spawned a broader, more inventive range of solutions for maximising smaller gardens.
The versatility, diversity and emphasis on sustainability of the gardens on show offered inspiration to visitors of every taste and it was clear from the wide range of gardens on show that there are exciting times ahead for Australian landscape design.
Photos: Patrick Redmond
Turning Japanese
The standout at the show was the monumental undertaking by internationally renowned Japanese designer Koji Ninomiya and Semken Landscaping (www.semken.com.au) — Sei-Sei Tei. The beautifully constructed garden, with water features by Lotus Watergardens, was a rendition of the traditional tea ceremony waiting garden, a place where all people are equal. It was a very tranquil space, rich in detail and meaning, from the raked gravel to the mossy rocks and water elements. Plantings were exhaustive, with a wide range of bamboos, conifers, grasses, flowering plants and bonsai. This impressive garden won the City of Melbourne Award of Excellence for Best in Show, The Royal Horticultural Society Comeadow Award plus a Show Garden Display Gold Award. 

Resort-style living
Outdoor resort living was again out in force this year, with two versions on the theme. This one was a lavish and sophisticated entertaining space designed by Christian Jenkins Design (www.cjdesign.com.au). Reflections, which won a Gold Award, featured two pavilions, one featuring a teppanyaki cooktop and one for lounging, complete with Dedon Spa suite, fireplace and plasma television. A narrow pool runs through the pavilions, with a dining area between. An effective and stylish answer to the challenges of creating a big-scale, resort-style living area in an average suburban garden. 
An undercover job
The Sir Walter Greenart Garden, designed by Daniel Tyrrell Landscapes (www.danieltyrrell.com.au) fused luxury living with a family friendly garden space. The garden featured rock gabion walls, a lush area of lawn, steel pathways, a plunge pool and an undercover entertainment area — a fresh version of the resort style, but with a family angle. Swathes of colourful planting softened the hard edges typical of this style of garden, creating lots of interest, while the expanse of lawn provided a versatile area for play. Winner of a Silver Award, this is one for the family who wants it all.
The urban courtyard
This year, a series of 5m x 5m courtyards by some of Australia's best-known designers were added to the mix and the three shown here won Gold in the Small Garden Awards. Eckersley Stafford's (www.eckersleystafford.com.au) funky city courtyard was a dramatic take on urban space — among the hard edges a mass planting of black mondo grass and billowing curtains and artwork softened the walls and added some depth to the restrictive space. This is the ultimate in low-maintenance garden spaces. 
A "present" from Jenny Smith Gardens (www.jsg.net.au) to legendary landscape architect Martha Schwartz, this garden added some fun and whimsy to the courtyard theme. Use of artificial lawn on vertical surfaces and hard gravel paving put the courtyard concept on its ear and generated a lot of comment. This garden was an exciting departure from the norm and could have great potential as an internal installation in, say, a light well or an indoor garden space. 
Cycas' Mark Browning (www.cycas.com.au) created a relaxing courtyard space, this time with lots of soft foliage textures and striking sculptural elements by Lump. The changes of level and the contrast of paving and decking materials provide a strong architectural element to an otherwise softly planted and welcoming space. This is a city courtyard of tranquillity.
A modern perspective
Created by Georgia Harper Landscape Design (www.ghld.com.au), 30.40.50 was a study in monochromatic design, exploring the relationship between the modern urban garden and drought-hardy planting, and influenced by 1930s black-and-white movies, 1940s post-war materials and 1950s geometry. Featuring a palette of silver and blue foliaged plants, this garden was a very modern space with a strong presence. The hard angles of the 'twisted' top platform, aluminium pergola and wall wedges were offset by the soft foliage textures. This garden won a Bronze Award in the Show Garden Display category. 
The changing times
The annual Fleming's Student Design Competition once again introduced show visitors to up and coming talent in landscape design. All tackled the theme of climate change and promoted the idea of each urban backyard doing its part to add to the fight to bring biodiversity into cities. Student Yen Ong's garden A Tale of 2 Gardens: Carbon Offset vs Carbon Reduction won the prize for best of the bunch. The garden represents the contrast between plantation trees in a carbon offsetting forestry scheme and those that have been planted in a suburban backyard. Built by TLC (www.tlclandscapes.com.au).
Amy Read's Radiate was another take on introducing biodiversity into the urban landscape. Built by Ian Barker & Associates (www.landscape.net.au).
Bethany Williamsons's Living Walls featured vertical planting spaces, another solution to bringing more green life into the urban garden, even in narrow confines. Built by Kiama Landscapes & Paving (www.kiamalandscapes.com.au).
Kitchen capers
The work of AQL Landscape Design (www.aql.net.au) The Melbourne Garden was a lovely rustic space with modern outdoor entertaining facilities. The visitor could wander through the garden along bluestone pavers and reclaimed bluestone garden edges and timber fencing, stopping by various rows of salad vegetables, citrus and fruit trees, and herbs. In the centre, a modest outdoor cooking bench with seating was capped off by a simple timber pergola, with a modern touch — a retractable automatic awning. This space is relaxed and practical for the true gardener. 
A traditional touch
Tradition was not lost in the mix this year, albeit with some more up-to-date elements. Designed by Southern Earth Landscapes (www.southernearthlandscapes.com.au), this country walk was a soft, lush garden enjoyed by many show goers. A gravelled walk surrounded by cottage plantings, the garden featured Victorian Garden Structures' beautifully detailed and lovely shade houses and garden buildings. Created using reclaimed materials, they added an authentic traditional feeling to the garden. 
Made to entertain
A trio of semi-transparent glass artworks, each decorated with a representation of kangaroo paws in flower, provided a soft background to the Entertaining Garden. Designed by AQL Landscape Design (www.aql.net.au), this garden was one of three sustainable living gardens presented by Mitre 10. This is a garden that abounded with special features, including a daybed incorporating a storage area and a worm farm where leftovers from outdoor meals can be recycled. The planting palette was predominantly green, complementing the glass panels. 
Just for kids
Sunbear Garden Designs (0410 562 055) created a place for kids with lots of colour and excitement, Sens'abilities. Designed as a sensory garden for special children, it contained a path that wound around the space and an abundance of musical and sculptural elements throughout. Unusual items such as coloured poles topped with a variety of balls, tambourines and wind chimes added interest and excitement for the smaller visitors. 
Works of art
As always, sculpture played a prominent part in the various show gardens as well as features presented in their own right. A bevy of prominent Australian artists and design studios displayed their work, including Rudi Jass from Jass Design (www.jassdesign.com.au), who won first prize in The Association of Sculptors of Victoria's awards, and Lump Sculpture Studio (www.lump.tps1.com.au), which displayed a variety of sculptures and lit features.