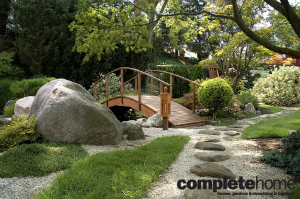 Australia welcomes a new network of innovative outdoor products and ideas centres
Since the early 1990s UrbanStone has been the bold, premium-quality-obsessed industry paving products leader that dozens of companies have followed, often slavishly.
Now the company is set to make any future commercial mimicking very difficult, if not impossible, in whichever states it operates.
Through its parent company, Schaffer Corporation Ltd, UrbanStone has recently incorporated a number of outstanding complementary companies as part of its unique vision to create a national network of innovative outdoor ideas centres.
These inspiring display and sales outlets, named UrbanStone Central, are already operating in Victoria and Western Australia and will be rolled out nationally over the next 12 months.
Each features the imaginatively presented products of UrbanStone and the newly acquired Lumeah Limestone (the popular poured, handcrafted paving), Archistone (walling, paving and cladding products), Carabooda Limestone and Moore River Limestone (two of the nation's leading manufacturers of natural limestone building products) and Limestone Resources' Natural Stone (an importer of natural stone from around the world).
Beyond the incomparably varied range of spectacularly presented pavescapes, walling, feature cladding, bullnoses, stepping and natural limestone blocks, there's also an impressive collection of water feature ideas, outdoor art, garden accessories and furniture and a wealth of genuinely expert advice.
According to Group General Manager, Michael Falconer, the new concept is designed to satisfy the increasingly high expectations of modern Australian homeowners.
"Increasingly, people are looking for a wide range of imaginative options that will add value to their largest investment and their lifestyle," he said.
"UrbanStone Central is all about providing inspiration and access to a far wider range of outdoor products than has ever been offered before," he added.
For full details on UrbanStone Central, the current outlet locations, and the collection of high-quality products and services offered, simply visit the UrbanStone Centra website.
URBANSTONE CENTRAL
Tel: (08) 9340 0088
Website: www.urbanstonecentral.com.au