An outdoor lounge area turns this swimming pool into a destination in its own right.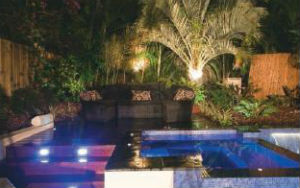 Thanks to the design and construction expertise of Majestic Pools & Landscapes, this luxurious swimming pool makes excellent use of the available space, turning a once problematic sloping block into a modern and functional multi-levelled outdoor space.
The clients' main requirement was for a private outdoor retreat where they could relax in seclusion or entertain friends. They also wanted the pool to be linked with the house, both physically and visually, which Majestic Pools achieved via the introduction of a walkway bridge.
To enhance the sense of luxury and indulgence, the landscaping around the pool was an important component of the design, hence the use of an existing frangipani and the establishment of lush gardens. Other important elements included the creation of an outdoor-room-style lounge area next to the pool and the strategic use of pool and landscape lighting.
By spending time with their clients at the all-important consultation phase, Majestic Pools was able to ascertain the owners' needs and lifestyle preferences. Then, working together with the clients, Majestic Pools developed several design ideas until the perfect design was devised and implemented.
For Majestic Pools, meeting the client's needs is paramount, as is striving to design in an environmentally responsible way and increasing the value of a property. Many people underestimate the power that a well-designed pool has to enhance a family's lifestyle and to add real value to a home.
Majestic Pools, a multi-award-winning company, takes great pride in its design team, which specialises in full concept and custom outdoor designs. The company specialises in the design and construction of concrete swimming pools and this stunning pool and landscaping project is a glowing example of the team's design diversity and construction expertise. Whether it's a new pool, spa, outdoor room or landscape you desire, Majestic Pools can tailor — and build — a design to suit your individual needs.
Photography Glenn Weiss  
Project details
Pool design and construction by Majestic Pools & Landscapes.
For more information visit www.majesticpools.com.au