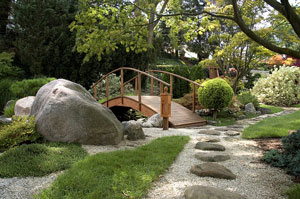 On the outskirts of Brisbane sits a garden sanctuary steeped in Oriental charm
Story: Diane Norris
Photos: Glenn Weiss
Garden design is constantly evolving to embrace diverse cultural influences and create highly individual, lifestyle-enhancing outdoor spaces. One source of endless inspiration is the intrinsic beauty to be found in the garden designs of the Far East.
Many people are drawn to the mystique of the Orient, entranced by cultures that embody an approach to life that encompasses mind, spirit, body and soul. This gentler more natural way of life promotes calmness and longevity, respects nature and acts as an antidote to the stresses of modern life.
Whether you choose to emulate the garden styles of one or more Oriental cultures, it is a design approach that will put you on the path to creating a balanced outdoor space that provides a sense of retreat and entrée into a new way of life.
On the outskirts of Brisbane in Pinjarra Hills you will find one such lifestyle garden — a unique and tranquil place of retreat designed by Mark Perriman Landscapes.
From the moment you pass through the main driveway gates, the Japanese entry garden provides an aesthetically pleasing view and signals a warm welcome. The Japanese theme continues through the garden, right up to the front door. While the garden style is distinctly Japanese, the positioning of features and the wonderful sense of flow and positive energy can be attributed to the use of feng shui, an ancient Chinese discipline.
The ethos behind this garden's structure is nature, which is accorded great respect in both Japanese garden design and the practice of feng shui. In a traditional Japanese garden design you will see natural water features, perhaps a waterfall or a pond. Or you will find pebbles or raked sand representing a body of water, with rocks representing islands or mountains. Straight, hard edges are avoided as they are in feng shui.
A traditional Japanese garden will also embrace the seasons, working with rather than against nature. This is also a basic tenet of feng shui. With a keen and faithful eye for detail, Mark Perriman has embodied all of these principles in this garden.
Strolling gardens (Kaiyu-shiki) are popular in Japan so Mark has introduced paths that take you through each area of the garden. Uneven surfaces are encountered at strategic positions to stop and encourage you to look at a feature, such as the feathery foliage of the peppercorn tree or a Japanese ornament, such as the traditional Kanuji pink granite lantern standing some 700mm high.
The stepping platforms of recycled hardwood sleepers are placed carefully in conjunction with rock steppers and gravels to give a natural feel. These are not in straight lines but irregularly spaced. Then there are magnificent clumps of bamboo to provide a sense of enclosure and garden seating to encourage the family to sit and contemplate or simply relax and enjoy.
It is very important to Japanese design that the garden be "sealed away" from the outside world. Here Mark has used prefabricated bamboo-cane rod panels installed between freestanding timber frames for screening. This largely obscures the house but, where seen, blends harmoniously with the screening, effortlessly becoming one with the landscape.
Pebbles have been used to form a dry-creek bed and there is a large solid rock-like water bowl that is more than 500mm deep, allowing water plants and fish to thrive. A handmade bamboo water spout is an authentic touch.
Out of respect for nature and a desire to ensure a well-established look, Mark incorporated existing trees and shrubs into the new design, including crepe myrtle, ivory curl tree, port wine magnolia and various species of bottlebrush. Mindful of our unique climatic conditions, he installed water-efficient underground drippers to all plants. This irrigation system is fed by a concealed 45,000-litre rainwater tank.
During the evening hours, low-voltage lighting illuminates the garden, supplemented by two one-metre-high granite Japanese lanterns.
"Placement of each of the separate elements — the natural rock creek, plants, garden seat, recycled timber sleeper steppers, garden lights, water bowl and surface treatments — all come together to create a serene and welcoming garden space. A true sanctuary in which to either pass through while accessing the residence or a space in which to simply sit and relax," says Mark Perriman.
"On arriving at the front gates the scene is set for what is to come … a truly special experience," he concludes.