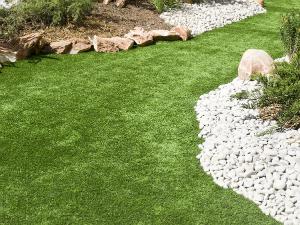 Now you can enjoy the look of lush green lawn all year-round

Conserving water has become an essential requirement of daily life and with water restrictions a reality for most Australians, performing the garden tasks we once took for granted, such as maintaining a natural lawn, have become much more difficult.
Synthetic Grass & Rubber Surfaces Australia are leaders in the supply and installation of high quality synthetic grass. Offering a variety of products designed to replace areas of natural turf, they can help you keep your precious outdoor areas looking lush and green all year round.
Available in long or short pile, these synthetic grass products give the appearance of natural grass. They also offer myriad advantages over "real" turf. To begin with, they are virtually maintenance-free requiring no watering, fertilising, mowing or edging. And you don't have to worry about dirty or dead-looking patches. This means that if you are looking for a cost effective, long lasting lawn alternative — one that will increase the value of your property — then a synthetic grass surface is a practical, viable solution.
Synthetic grass can be used for a wide variety of applications around the home, including balconies, pool surrounds, walkways, play areas, patios, barbecue areas, roof tops, pergola floors or pet areas. It can even be used to create a backyard putting green.
Synthetic Grass & Rubber Surfaces Australia recently released a new product — Life-Like Lawn. Specifically designed as a natural turf replacement, this synthetic grass has a dense stitch rate with 16 blades of grass per stitch. Manufactured to a 35mm height, Life-Like Lawn has the look of a well maintained luscious green lawn. It also has great draining qualities so it can be used shortly after rainy periods.
Synthetic Grass & Rubber Surfaces Australia can provide a quote to supply and install synthetic grass. Or, if you prefer, they can provide a quote for supply only along with detailed instructions for self installation.
Synthetic Grass & Rubber Surfaces Australia
3 Tepko Road,
Terrey Hills NSW 2084
Tel: (02) 9986 1133
Fax: (02) 9986 1144
Email: sales@syntheticgrass.com.au
Website: www.syntheticgrass.com.au