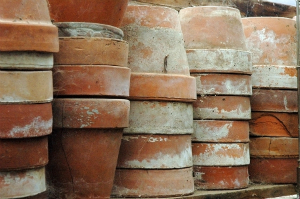 There is something about a rust finish that holds endless appeal, whether for pots, screens or seating
The decorative touches you apply to a garden help to cement the design theme and stamp it with your own personal sense of style. One popular approach is to choose items of furniture and décor with a rusted or rust-effect finish. This gives a garden a feeling of having been around for a while yet fits perfectly with contemporary landscape designs.
There are endless ways to introduce the rich red-brown tones so many of us find endlessly appealing and somehow extremely comforting. Metal artworks have long had a vital role in decorating outdoor rooms and garden spaces as have water features and there are many styles that lend themselves to the application of a rust finish. 
Then there are garden benches and seats, whether bought 'off the floor' or custom designed. Growing frames and trellises with a rust-effect patina can combine function with art as can pots and planters. When it comes to containers, a rust finish looks especially effective on simple square or round pieces.  Add to the list plant stands, lanterns, wall sconces and screens and you can see what diversity is at your disposal.
Another very effective way to use rusted metal, or metal items with a rust finish, is to use them to both complement and contrast natural materials such as pebbles, tone paving and lush green planting. The mix of natural colours and textures can be very compelling and turn a corner of a garden or the edge or an area pf paving or lawn into something very special.