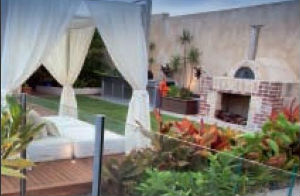 An inspired tropical design took this garden from the worst in the street to the best
After winning the Don Fleming LaLandscape Design award at the Melbourne International Garden and Flower Show in 2009, Alicia Ferrer of Kokatu Design was approached by The Garden Gurus to design a garden makeover for their television series Battle of the Burbs. Alicia's mission? To transform the "worst garden" in the street to the "best possible garden" — all within a tight budget and a challenging timeframe.
Although the garden may have been in a parlous state, the owners were a dynamic young couple with a young child who enjoy the good things in life — including holidays in tropical locations. Until their daughter is older travelling is off the agenda, so their brief was to design a tropical garden with a large outdoor room-style area to entertain friends, a sandpit, a hot tub and an area for growing some fruits, vegetables and herbs.
Luckily, the owners were plant lovers and had an extensive collection of mature plants in pots such as Cordyline terminalis, Dracaena marginata, Philodendron 'Xanadu', Agave attenuata and Cyathea cooperi, so Alicia re-used lots of them. Most of the plants in the ground, however, except a mature lemon and a palm tree, were in bad shape and had to be removed.
To get to the hot tub, which is enclosed by a semi-frameless pool fence, there's a sweeping path of grey stepping-stones and pebbles with lush tropical planting on both sides. These curves contrast and balance the dominant rectangular areas of lawn and deck.
The curved path connects the hot tub with the deck and hidden utilities area. It also takes you to a new side gate that can be used during parties so guests don't need to tramp through the house.
Adjacent to the tropical garden and path, there's a large rectangular decked area with a cube-shaped structure where you can hang outdoor drapes, giving privacy and shade to a custom-made daybed. This is a magical part of the garden where the owners can rest, listen to music or relax with friends.
On the other side of the deck is a wicker dining set that's lit by the indirect lighting from a laser-cut metal feature panel crafted by a local artist and hung from the house wall. The rectangular lawn mirrors the adjacent deck and separates the freestanding outdoor kitchen that is naturally located near the existing pizza oven.
The entire garden is lit by LEDs so insects are not attracted to the light. All fabrics used are UV- and mould-resistant as well as machine-washable, so the outdoor space is as easy to maintain as it is to look at.
Project details
Landscape design by Kokatu Design 292 Bulwer Street, Perth WA 6000 Phone (08) 9227 5793 Mobile 0415 544 903 Email alicia@kokatudesign.com.au
Website www.kokatudesign.com.au Photography by Ron Tan