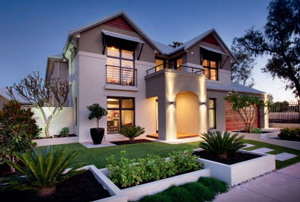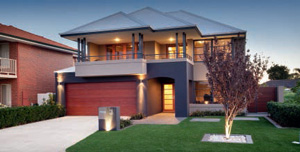 Here, we share 12 top tips for creating a garden with maximum kerb appeal
Words: Karen Booth
When contemplating a front garden design, it pays to get a fresh perspective, so stroll up and down your street a few times, noting how the space looks as you approach it from either side and from across the road. Most of us tend to see our front yards from either the path that takes us from the driveway or garage to the front door, or from inside the house looking out. Seeing how others view the space from the street will help you achieve a balanced design that complements the look of your home and the overall streetscape.
1. Complement the house
It should go without saying that the design of a front yard should be in harmony with the architecture of your home. This can be achieved in various ways, from matching colours and materials to using decorative features in keeping with the design of your home. A period home is a good example of the importance of matching the design of the front garden to the house. The front garden will best relate to the home if it features construction materials and plant species specific to the period of the home.
2. Functionality matters
Functionality is equally paramount. You want garden paths that allow you safe passage to the front door, which means no overhanging foliage, awkward turns or hard-to-negotiate steps. And you want paths that are well lit for the comfort of visitors and for your own safety.
3. Make an entrance
The same principle applies to your front door — at night you want good lighting and an unobstructed view so you can see who has come calling. Even if you tend to access your house through the garage, or the backyard, your front door is the main entry point for visitors, so the area around it needs some consideration. You can signal a warm welcome in various ways — perhaps with a matching pair of potted topiaries (one placed on either side of the door), or a timber entry bridge traversing a tranquil pond dotted with aquatic plants.
4. Low maintenance
Practical matters also come in to play. Since most front gardens are on show all the time, the easier it is to maintain, the better. You don't want to be a slave to upkeep and a messy, overgrown front yard quickly becomes a neighbourhood eyesore.
5. Light your way
In regards to outdoor lighting, there are several elements to consider. Practical lighting provides security and allows people to safely negotiate the pathways (and steps) to your door. This can be in the form of flood lighting and/or bollard path lighting that can be sensor-activated for convenience. Mood or aesthetic lighting can enhance the overall look of the house and front garden. You might be surprised how the use of subtle accent lighting or feature lighting (up-lighting a large tree, for example) will increase your enjoyment of your home.
6. Prizing privacy
Privacy is a key consideration for many. This is especially so if you have security concerns or if your back garden is small and you need to use your front garden as an outdoor living space. Privacy can be achieved in a number of ways, ranging from high hedges to high walls. The latter is a popular choice in urban areas where creating a walled entry courtyard can provide security and a private space for entertaining.
7. Defining borders
If all you want to do is define your boundaries, you can opt for a simple garden bed or low-growing hedge. Choose a hedging plant with a compact growth habit and something that is hardy. For garden beds, strappy, drought-tolerant plants such as Liriope or Dianella are ideal.
8. Front fences
The consideration of a front fence is yet another significant differentiation between designing front and backyards. In addition to considering the style and type of fence so it visually relates to the house and ensuring that access to the house is not diminished, there are council regulations to be considered (especially if the fence is to be on the front boundary of the property). Often there are height restrictions, dependent on construction materials and the degree of transparency. This will vary from council to council, so always check first before beginning any work.
9. Focal points
Focal points are important as they draw the eye towards a pleasing vista (or away from an unattractive one), but you don't want to overdo it. Apply the same underlying principle as you would in designing any small garden space — that is, clutter is the enemy — and don't cram your front garden with decorative elements. A solitary water feature or a pair of matching sculptures will make more impact than a mass of distracting elements.
10. The driveway
Don't forget the driveway. A driveway claims quite a large proportion of most front yards, so you don't want it too look like a soulless landing strip. Choose pavers that complement the exterior façade of the house and any garden paths you may have. Get some expert advice when choosing appropriate pavers because you need something that can bare the weight and offer maximum resistance to staining, and to wear and tear.
11. Letterboxes
The letterbox and house number also warrant consideration, but just because a letterbox may be a necessity it doesn't mean it has to be boring. Access to the mailbox should be easy for both you and the "postie" to ensure you receive all your mail, while the more visible the house numbers the easier it will be for visitors to locate your home. (For some interesting letterbox ideas, turn to page 16.)
12. Adding value
Last but not least, keep in mind that by boosting the street appeal of your home, you're not just creating a lovely setting you'll be adding value to your property. This is something to keep in mind when planning to sell your home. A front garden makeover is vital for making a good first impression and achieving your asking price.