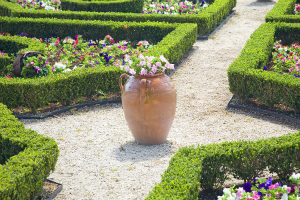 Never underestimate the power of a strategically placed focal point in the garden
Story: Catherine Stewart, MAILDM, MAIH
While the best gardens have that natural, inevitable look about them, they still rely on the basics of garden design. The viewer's eye is not left to wander aimlessly around the garden "picture" and we want each visitor to be enticed around all its treasures. One of the best ways of managing how a garden is viewed and explored is the careful use of focal points.
A focal point is the first thing in the garden you notice. In good gardens, that's because an object or plant has been placed deliberately to command your attention. Small gardens should only have one focal point although large gardens may use several, when each is hidden from the other.
Focal points need to look like they belong in the garden and they need to be worthy of attention. You must support a focal point with plants and built structures that give balance and background or it will not work. Locating your focal point is not always obvious and depends on what it is. A good trick is to position a bright red bucket in spots around the garden until even it "fits". You then can use this as a guide to the best position for the focal point you have in mind.
Focal points can be anything from a small group of rocks to an expensive sculpture or a beautiful plant. To make the most of your focal point there are many factors to consider:
• Colour is an essential part of making focal points. White and red are strong attractants and can be used either in the object/plant itself or as a vibrant background for the display. Using these colours in something else nearby, especially red, will destroy your planned focal point.
• Art and sculpture are obvious choices but don't put them out on their own. Most garden sculptures are designed to be supported and complemented by plants, which provide the necessary background and textural contrast.
• Garden décor like birdbaths and elegant pots can make simple and inexpensive focal points.
• Built features such as arbours, trellises and gazebos can become background support for featured plants or, if they are of sufficient architectural merit, can be the focal point itself.
• Natural features like rock outcrops make great focal points surrounded by fine textured foliage.
• Special plants can make seasonal focal points such as the brilliant autumn foliage of a maple, large splashy flowers in summer or a bare white-barked tree in winter.
• Furniture, such as a white painted bench, ornate iron chairs or a more vibrant mosaic table, calls attention against the right background.
• Water features like ponds, fountains and cascades attract the attention of the eye and the ear.
• Vistas, or framed views, act like a decorative picture, drawing our eye. Look around your garden to find your favourite vignettes and then "frame" them.
• Lighting can make what is ordinary during the day a focal point at night. There are many techniques to achieve this, including up-lighting.
Chosen wisely a focal point will do what it's meant to do — draw our attention and then hold it. An ill-considered focal point or one that is over-scale or out of keeping with the style of the garden will act as an irritation and distraction. Remember, it doesn't have to be grand; it just has to be right.