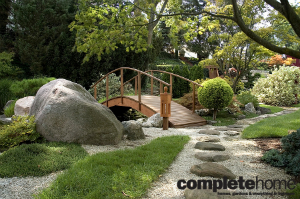 By keeping the design simple, this urban courtyard looks bigger than it actually is
Story: Karen Booth
Photos: Tim Turner
With its pristine white walls and clean uncluttered lines, this small entry courtyard seems considerably larger than its actual dimensions.
Of Asian-inspired, modern minimalist design, this courtyard is compelling proof that when designing for small spaces, less is very often more. By adhering to a limited palette of colours, materials and plants, the designer, Steve Taylor of Creative Outdoor Solutions, has allowed the courtyard to look and feel as open as possible.
As the home had recently been renovated, the owners wanted a striking yet inviting entry courtyard that would complement the contemporary look of the house and provide privacy and space for spending time out of doors.
"The result is a visually stunning, sophisticated entry space with the added benefit of functionality, as it can be used for early evening, welcoming cocktails or quiet moments of contemplation," says Steve.
"The key to the success of the space is its simplicity," he adds. "Also, the balance of scale and the contrasting yet complementary palette of tones and textures."
Integral to the design is the split-level water feature. A trio of up lit water jets in the top level sends water spilling over a granite wall into the lower pond. This pond can be traversed via a stepping stone path and abuts a large "floating" merbau timber boardwalk.
Red LEDs in the boardwalk reference the vivid red trunk of the feature Japanese maple (Acer palmatum 'Senkaki') adding just a dash of strong accent colour.
"Black bamboo provides contrast against the textured white walls and a balance of colour with the charcoal Nero Notte flame-finished granite pavers, custom-made granite bench seat and the cobblestone/pebble groundcover combination," adds Steve.
"We also included bird of paradise and cliveas for their architectural foliage, giant liriope for its wispy nature, and Gardenia 'Radicans' for its fragrance and hedging qualities."
The result is a beautifully balanced courtyard garden that is practical, pleasing to the eye and a perfect fit with the architecture of the house.