A beautiful façade reveals this new home's functional brilliance in catering to the needs of a young wheelchair-bound child.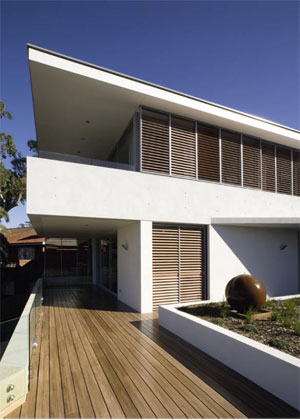 You would be hard pressed to come across a more specific design brief; one that needed to be wheelchair accessible for a young girl. The old home simply could not cater for her needs or the needs of her family, so they went in search of a home that could. Having found the space in a 1960s red brick home in Balgowlah, they looked to MaSQ Architecture. It would be up to these expert designers to create a comfortable and beautiful home for the family.
 "The house needed to be wheelchair accessible, flexible and designed for the future," said designers, MaSQ Architecture. Spatial configurations needed to be modified, access to all areas simplified, and a sense of life and vitality maintained so the child could look forward to living independently as an adult in the home.
MaSQ Architecture was very wary of one particular issue looming on the fringes of the design: that the home might easily be turned into a crisp and impersonal institution. But they found the inspiration to combat this in the child herself, so apt at looking past her lifechanging experiences and into the future. MaSQ Architecture concentrated on channelling her joy and warmth into creating a living environment that would radiate an inner glow and ultimately contribute to her quality of life and wellbeing.
The transition from the front entranceway, underneath a soaring glass canopy and into a double-height foyer space, is the architects' favourite design feature. They have created a heightened sense of arrival for the family — a warmth that announces a homecoming.
Moving inside, the entire space has been reworked to comfortably accommodate four bedrooms, three bathrooms, an internal lift for accessibility, a kitchen and formal dining and living areas, and a study. Within all of these spaces, special consideration was given to edges, surfaces, table heights, floor levels and fixture accessibility to avoid any obstacle to all possible functions.
Fail-safe doors were installed in case of fires, a home automation system and intercom were wired throughout the house and a special treatment room was built for the child's ongoing treatment. The most amazing thing is that despite all intrusions on free design, the house still plays and dances with the light, space and air of a beautiful and happy home.
Natural materials largely contribute to this effect. Outside, rich, reconstituted timber decking, thinly spaced and bordered by natural stone blocks, creates a welcoming and expansive sweep of colour around the freshly painted white home. Timber blinds and furniture pieces connect the home with the encircling boardwalk, keeping the warmth of burnt ochre consistent throughout the design. Natural, non-static carpet provides a safe and comfortable floor for the bedrooms, and vitrified tiles line the kitchen, dining, living rooms and bathrooms.
The outlook from a fashionably furnished living room is also radiant. Level with the interior, more timber decking stretches out to meet smooth, white concrete garden beds, raised so as to fulfil a secondary purpose as low benches. The combination of timber with glossy green hedging, swathes of native grasses and small, shady trees, captured and framed as they are in contrasting white boxes, imbibes an energy into this outdoor entertaining area. Gazing outward, this sense is heightened even further by the glimmer of a stunning hydraulic solar-heated pool.
The use of natural materials serves to reflect the vibrancy and stability, despite all hardship, of the family. MaSQ Architecture would do nothing differently given a second chance, having fused a very limiting design concept with room to move so that a differently abled young girl can move within it.
Photography by Todd Sutherland/ MaSQ Architecture 
MaSQ Architecture (Quinton Margalit Smuskowitz Architects)
13/77 Dunning Avenue, Rosebery NSW 2018
Tel: 02 9662 3500 Fax: 02 9662 3354
Email: office@masqarchitecture.com
Website: www.masqarchitecture.com
Builder: Pimas Gale Construction