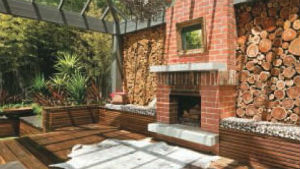 Outdoor mirrors bring light into dark corners and make small spaces seem more spacious
Words: Karen Booth
An outdoor mirror can be an asset in any garden but in a small space it can do more than simply add a delightful decorative touch. Placed 'just so' it can bring light to a dark corner, give the impression of increased space and add a feeling of depth. Courtyard or balcony, patio or garden nook … a mirror gives a small space a whole new perspective, not to mention a little sparkle.
"When you find small outdoor spaces difficult to do anything with, outdoor mirrors may just be the answer," says Siita Rivas of Rivas Design, a company specialising in wrought iron and mirrored artworks for the garden. "They are one accessory that lets you take advantage of the limitations small spaces present and turn them into features that work for you.
"Solid end walls in balconies or plain walls in courtyards are often overlooked as makeover opportunities but outdoor mirrors can work perfectly to style these spaces," continues Siita. "Helping to create an easy indoor -outdoor flow, mirrors also give small spaces a feeling of being intimate but not claustrophobic. They bring light to dull areas, create an increased sense of space and as night falls they continue to catch light beautifully, reflecting the flicker of candles on tables or the glow of garden lights … even distant city lights. The magic of outdoor mirrors continues day and night.
"Like reflections on water, views captured by mirrors can be seen from a variety of angles. Sometimes the mirror gets mistaken for a window through to another space, other times the reflection they catch is of a distant view or another area of the garden. And since they only need a wall to hang on, an outdoor mirror is the ideal accessory for small, intimate outdoor spaces."
When integrating a mirror into an outdoor room or landscape design, there are myriad issues to consider, starting with the issue of placement. A mirror can be placed on an exterior wall or stable, secure fence. In an outdoor room, you can place a framed mirror on a wall or above a fireplace to reinforce the sensation of being in an interior room. Similarly, you can hang a mirror on a wall in an enclosed patio or verandah to create the same cosy effect. Place mirrors relatively high up but not where you will encounter it face on. The goal is to angle the mirror so that it reflects views of the garden rather than a view of the sky.
A fun idea is to hang a mirror from a tree branch or prop it in a niche in a wall; or you can place one behind a fountain, trellis or grouping of leafy potted plants. You can also follow the tenets of feng shui and place mirrors in positions that will help to improve the flow of energy (chi) around the garden. Mirrors are said to attract positive energy as well as light and to repel negative energy.
Next is the issue of style and the range of styles seems to be increasing with each passing year. Designs range from the gothic, rustic and cottage to the whimsical and crisply contemporary. You could have a mirror designed to look like a gate or window, giving the impression you could step or look through into another space. You could even incorporate a flower box at the bottom of a window-style mirror. Or you could attach a mirror to the back of a trellis and use it as a feature panel of a way of adding light to a dark corner.
Choosing a frame is a matter of personal taste and matching it your outdoor decorating scheme. Frames of wrought iron, Corten steel, stainless steel, cast iron, fibrecast polyresin, plastic or treated timber are all popular options. You can buy off-the-shelf frames, have one custom made or come up with a creation of your own. If you have a mirror with a plain frame, give it a 'frame' of evergreen climbers for a lovely 'secret garden' look.
Outdoor mirrors give you a chance to express your creativity. Making a mosaic mirror frame or one can be a fun weekend project and adds a very personal touch. Another option is to cover a frame in seashells, bits of driftwood or other found objects. For durability, a frame made of aged, weather hardened wood is a great way to go. You could recycle timber from old fence palings, unwanted furniture or disused window frames.
While the frame is what draws the eye, the mirror itself has to be able to withstand exposure to heat, rain and more – and one of the first lessons to learn is you shouldn't use ordinary indoor mirrors for outdoor applications. Even though garden mirrors have been used for centuries, the silvering process used was not weather-resistant. Today, mirrors have harder finishes – for example, toughened mirror glass, the life of which can be extended by painting the silvered backing side with varnish. You can also find outdoor mirrors that are made of weatherproof acrylic mirror sheeting or Perspex, which is lighter.
If you want a handcrafted mirror or a custom designed piece, there are artists specialising in this form or outdoor décor, such as Siita Rivas of Rivas Designs in Sydney who specialises in wrought iron and Brenda Anshaw of Anshaw Art in Melbourne who specialises in stainless steel. If you're after a classic or traditional mirror to complement a formal garden, Yardware produces a range of mirrors made of stone-look, GRC (Glassfibre Reinforce Fibre). Rust finish mirrors are available from companies including Entanglements and online store, The Savvy Garden, and you'll also find a growing selection of garden mirrors in garden centres and national retail chains such as Mitre 10.
If you really want to add some shine to an outdoor space, you can go step further with mirrored planters or a mirror frame around a water feature, but don't over do it as too many reflective surfaces can make a space seem busy. Often one feature mirror as a design focal point is all you need to create a cosy scene and make a space seem lighter and more spacious than it actually is.
Whether you travel the do-it-yourself route or buy one of the growing number of commercially available outdoor mirrors, a mirror can be one of your greatest allies in your quest to open up a small garden space and add a little magic.