Conservative but stylish externally, unashamedly modern in layout and finish internally.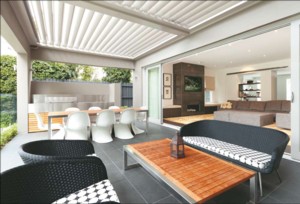 While the site of this building had potential, the existing single-storey house offered little to suit the owner's needs and lifestyle. Worse yet, it faced challenging council restrictions courtesy of its highly visible location on the main road through a heritage conservation area.
Two previous proposals put forward by other architects had been rejected, so the owners approached Chateau Architects + Builders with a simple brief: in addition to solving the council concerns, they needed open, bright functional spaces that optimised liveability of the interior, the amenity of the outdoors and the potential return on their investment. Chateau rose to the challenge, creating a new two-storey house that is respectfully traditional in its external style and unashamedly modern in its layout and interior. The client's detailed brief included space for four bedrooms, four bathrooms, an entertainment room, a study and a host of other inclusions that make a house into a home.
The heart of the house is its kitchen, designed around a large island bench with sandblasted Arcadian oak cabinetry, and its adjoining informal dining and semiformal lounge areas. Generous in size, the latter is subtly separated from a study by bespoke see-through joinery which divides the different functions without compromising their sense of space and openness. Further flexibility is added to the music area by unique retractable walls that allow the owners to manipulate the space to accommodate other uses. This flexibility allows for an intimate private area overlooking the garden or a small additional guest bedroom when required. The primary internal living spaces are visually extended into, and wrap around, an alfresco lounge that allows the owners to take advantage of views of the rear pool and yard in one direction, back to the front garden and its curtilage in the other. The alfresco lounge has a built-in external barbecue kitchen beside it and glass balustrades to make the most of the pool view. Its terrace has an electrically operable opening roof that controls light and shade it receives and protects it in inclement weather. The ground floor west wing contains vehicle accomodation, laundry and storage space to suit the needs of a busy family. There's a bathroom for the guest suite and powder room. The master bedroom, with curved window bay overlooking the garden, is on the first floor and includes an ensuite and wardrobes, with custom-designed joinery. Three children's bedrooms with work stations are on the same floor, as is the main bathroom. All the bathrooms are fitted with heated towel rails and Axus accessories for a luxurious touch. A TV room with custom cabinetry for the media hardware and external private balcony overlooking the street-front garden forms a quiet haven for the children.
Council requirements proved an interesting challenge for Chateau, which needed to devise a project that met rigorous heritage and conservation considerations. Because the development is highly visible from a busy main street, it needed to respond to and complement the older heritage buildings along the immediate streetscape. The company's solution: marrying traditional roof forms and massing with the flexibility and openness of a spacious modern home. This satisfied both Chateau's clients and the local council. "What makes this home special is that we have delighted the homeowners with a design that met their brief, and made the most of a challenging site," says Roderick McDonald of Chateau Architects + Builders. "From design through to construction and handover, we're delighted that the process exceeded the owner's expectations and was affordable."