"Because the kitchen is now so clearly in the spotlight, we want it to look its best. More important, we want it to reflect our own individual tastes …" (Nancy Mernit Soriano, Editor in Chief, Country Living)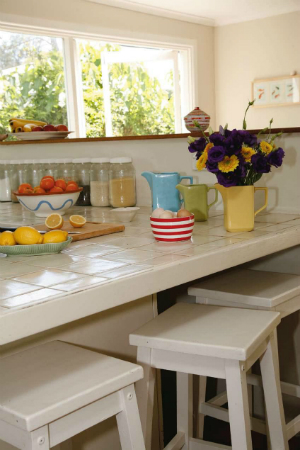 Of all the rooms in a home, the most overworked is surely the kitchen. Even when it is off duty from its core tasks, it is on duty in its back-up role. Although the kitchen is a uniquely practical room, where we are continually toiling, preparing, cooking and washing up, it is so much more than merely a functional workspace. It is often the heart and soul of the country home, the place we talk through the problems of the day over a good cup of tea. The place we sneak a late-night snack while waiting for teenagers to return from a date. The place we sit and plan menus purely to avoid some unpleasant task or other. This room, perhaps more than any other, is alive and buzzing.
With all its action and vitality, the country kitchen takes on a character all its own. It is much more than cabinetry and shiny work surfaces; it is a place of action but also of energy, verve and personality.
It's interesting to observe how we choose to decorate our kitchens. Of course, with ready-made kitchens so easy to source these days, the basic kitchen could easily tend to be a bit soulless. But this just isn't the case in the country kitchen. Beyond the big choices we make regarding layout, cabinet style, colour and benchtops, we all tend to let a little of ourselves creep into our kitchens through the accessories we choose. For some, character is added through the addition of a freestanding piece of furniture such as a dresser, butcher's block or island bench. These unmatched items instantly break up the uniformity of a completely matching built-in look. They also offer great display opportunities for the bits and pieces we love to collect, or everyday items like fruit bowls and utensil-filled jugs or recipe books.
The colours we tend to add are quite personal and will usually be based on some favourite china range or vintage collectable; perhaps it may be inspired by a cushion or chair in a new open-plan room. While we mostly play it safe, by choosing colours for our fixtures and fittings that won't date we are happy to add more vibrant touches through our trinkets, serving ware and storage items. These are perfect for adding some character to more modern kitchens.
Try not to overdo it. Kitchens really are best kept clutter-free — we don't want dust gathering here. A few decorative items scattered among the practical necessities will definitely add some character and life to the room, but too many will become inconvenient and stressful to work around.
You can show your playful side with your accent pieces, experimenting with colours you might otherwise leave alone and not begrudging them the space they take up. Choosing a bright-red vintage set of scales even though it's the only touch of red in the room is quite alright if it makes you smile. A jug of fresh flowers or herbs on the bench top is always worthy of the space if it makes the time spent in the kitchen more pleasant. Stripes and dots are always fun in the kitchen, whether on a tea towel, ceramic tableware or favourite coffee mug. For a fresh country feel try teaming bold stripes with some French-inspired wrought iron.
You could release your inner Francophile and give your room classic French character by opting for a very neutral look with lashings of white china and stone or timber benches. This look works well in large or small rooms and is quite timeless.
Artwork is another fun way to warm up the room and so many fresh and fun examples are now available. Or you could get creative and fashion some yourself, using photos of your favourite collectables printed onto canvas.
Of course, there is another inexpensive way to add colour to the kitchen. It may not be the most permanent of decorating choices, but it does look impressive when you add a bowl of fresh lemons to a table or display home-grown eggplants on a sideboard. Such spirit-lifting touches may be temporary but they can brighten your mood and even inspire your recipes for a few days. You can also bring a sense of the seasons to your kitchen this way and have the bonus of adding seasonal dishes to your menus.
Don't get too hung up on what you choose to highlight; even a tray of glassware can be decorative if displayed attractively. By adding some fun, fanciful and fresh bits and pieces to your kitchen, you may be inspired to spend more time there and in this age of fast and prepackaged foods, anything that encourages us to cook good wholesome food from scratch has to be a good thing.