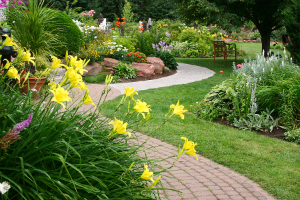 An inviting garden designed to flourish in a cold mountain climate
While the owner-builder was making preparations to completely renovate the house, I was commissioned to draw up a plan to renovate the garden. The large, flat block was completely dominated by over-mature conifers, plunging most of the yard into shade and preventing anything else from growing. If natural light was to be allowed into the garden, not to mention winter sun into the house, removing these heavy trees was imperative.
Enhancing privacy was another priority as the property has three road frontages. A healthy row of Mexican pines (Pinus patula) along the northern boundary was retained for screening purposes and to provide protection from hot summer winds, while a row of Leyland cypress (Cupressus leylandii) was planted along both the eastern and western fence lines. As they mature, these fast-growing, upright, evergreen trees will be clipped to create a privacy hedge of moderate height.
The owner asked for a woodland garden where beautiful trees would provide height and create a forest-like ambience above flourishing groundcovers and specimen shrubs. The main trees selected were silver birch (Betula pendula), chosen for its delicate foliage; two types of maple — Japanese maple (Acer palmatum) and red maple (Acer rubrum 'October Glory'); snow pears (Pyrus nivalis), contributing lovely silver-grey leaves and white flowers; and strawberry dogwood (Cornus capitata) to tie in with an existing pink dogwood in the yard. These trees have been planted in small groves, creating a distinctive feel in different areas of the garden. The deciduous trees allow the sun into the garden and house during the cold mountain winters.
An outdoor entertainment area was also considered a priority, as was a decorative yet functional vegetable patch with adjoining chicken run. Two quaint, character-filled, old corrugated iron sheds were retained for storage and as part of the chicken run, painted in strong, whimsical colours. To create vertical interest on this flat site, freestanding rubble sandstone walls were built.
A curved one-metre-high wall runs along the side of the vegetable garden and then wraps around the covered entertainment area to create an enclosed seating zone. A lower circular wall welcomes guests at the front door. Although the paths and driveway are plain concrete, they are softened by the overhanging foliage and enhanced by the play of shadows. To further blur the edges of the hard landscaping elements and to foster the feel of natural woodland, gently flowing grasses were selected. New Zealand sedge (Carex testacea), maiden grass (Miscanthus sinensis 'Variegata'), feather reed grass (Calamagrostis acutiflora 'Overdam'), a dwarf form of lomandra (Lomandra longifolia 'Tanika') and various New Zealand flax (phormium) hybrids all blend together yet retain their own particular charm and style.
To provide medium height, banks of shrubs (echium, choisya and rhododendron) were planted while perennials and smaller shrubs (rosemary, day lilies, hellebores, daisies, sedum, hebe and some azaleas) fill the lower storey with foliage, flowers and fragrance. Groundcovers (ajuga, juniper and bergenia) work well under the trees, especially the ajuga with its springtime carpet of blue flowers contrasting with the white trunks and pale green leaves of the silver birch. For accent, Spartan juniper (Juniperus virginiana 'Spartan') and Japanese yew (Cephalotaxus harringtonia 'Fastigiata') were used. The result is a planting scheme that delivers floral and foliage interest no matter what the season.
Too often, designers don't get to oversee the construction of the gardens they devise and the spirit of their designs may be lost with unnecessary or poorly conceived changes. This was not the case here, thankfully, and the garden is an excellent example of what can be achieved with good design and owners who value the ideas of the designer.