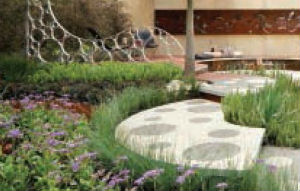 This curved deck and conversation pit mimic the outline of the Australian coastline
Inspired by Australia's sweeping coastline and curved inlets, this contemporary garden is a living piece of art. Designed by Paal Grant from Paal Grant Designs in Landscaping, the garden captures the imagination and soothes the soul as it transports you to a peaceful place where you can unwind with friends on a sultry summer weekend.
Your journey of discovery unfolds as you tread the winding pebble path, which takes you to a striking aluminium pergola. Designed by Paal and built by Entanglements, a company specialising in the production of metal art, the pergola is a key feature in the design concept. Providing a bridge between interior and exterior spaces, the pergola is constructed from durable aluminium and Alupanel inserts that have been router cut.
"The roof of this structure literally breathes as its construction is cut out. What's more, the sun is able to make its way through the silhouettes of the native tress to warm the space and cast a decorative play of shadows on the wall and deck," says Paal.
While Paal opted for an open roof, the pergola could be made waterproof by the addition of glass sheets over the top, he says.
Each facet of the design reflects the timeless, earthy beauty of Australia. The pebble path is reminiscent of a dry creek bed and is bordered with drought-resistant succulents and fragrant rosemary. The graceful curve of the timber entertaining deck echoes the coastline and sweeps down to a fire pit perched on UrbanStone's ripple-effect Shifting Sands paving. This area is the perfect place for friends and family to gather.
With a background in fine arts, Paal says he sees each and every landscape as a blank canvas. "With just a few brushstrokes, you can create a striking landscape that's both functional and beautiful to look at," he says. "For me, gardens are functional living sculptures that change as plants grow."
Paal's approach can be applied to large gardens or smaller gardens, such as this one. "There's a design philosophy that says less is more, but in this garden more is more. Here, I brought together a variety of design elements that work harmoniously to create the overall visual impact," he says.
From the curved pathways and circular conversation pit to the flowing contemporary metal art, this is a garden designed to stimulate the senses and provide something unique and exciting at every turn.
Dubbed "The Wave", the garden was presented by Paal, in conjunction with Entanglements, at the 2010 Melbourne International Flower & Garden Show, where it was given the highest honour: the Gold Show Garden award.
Project details
Landscape design by Paal Grant Designs in Landscaping Mobile 0407 318 922 (Paal Grant) Website www.paalgrant.com Construction and artworks by Entanglements 342 Jasper Road, Ormond Vic 3204 Phone (03) 9576 9600 Website www.entanglements.com.au Photography by Patrick Redmond