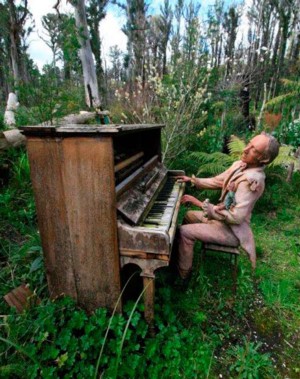 A jaunt through artist Bruno Torfs garden proves to be more than just a home for trees, birds and flowers  
Much as we love plants in the garden we mustn't forget the beauty of ornamentals. I'm not talking about plants here but rather things like garden furniture, pots, water features and sculpture. I find the inclusion of ornamental objects in the garden creates a balance between nature's creativity and human imagination. Artist and gardener Bruno Torfs is a man who gives free rein to his imagination, expressing the full spectrum of emotions by moulding clay into wonderful lifelike sculptures, from the comical to the ethereal to the poignant, as in a mother and child representing survivors of the Victorian bushfires of 2009 in which 80 per cent of the town of Marysville was destroyed — including the popular tourist attraction, Bruno's Art & Sculpture Garden.
Born in South America in 1955, Bruno was one of six children in a Belgian family. His father, Leonardo, is a well-known painter whose artwork includes portraits of dignitaries and paintings of marketplaces, farmers, Indians and so forth. When Bruno was 15, the family moved to Belgium where he undertook an apprenticeship in signwriting and decorating. Bruno became inspired by a travelling sculptor who occupied the same building and it wasn't long before the young Bruno decided to quit his job to travel the world, too. As he experienced different cultures and countries, he sketched the faces and scenes as a way of documenting his travels, later turning them into paintings and sculptures, which he sold at exhibitions.
Bruno arrived in Australia in 1996 and settled in Marysville on a large property with his wife Marleen and daughters Iris and Klaartje. It was in Marysville that his garden sculpture obsession began and 15 years later it's every bit as intense as it was when he began. Sculpting and painting are Bruno's passions and his way of communicating. He likes to work in terracotta, which is not as simple as you may think. "To build such sculptures, first you need to build the whole sculpture with solid clay on a metal armature," says Bruno. "When shaping is finished, it's left to cure so only the outside part of the sculpture dries. Then you have to hollow it out so it is no more than 2cm thick.
"Most of the time you have to cut the sculpture into smaller parts so you can hollow it out everywhere," he explains. "Then you have to join the parts together again and then allow it to completely dry. After it is dried it is then fired in a gas kiln to 1150 degrees, then I colour them when they have cooled." As for plants, you'll find a bit of everything in Bruno's garden. "I love to see the garden as a rich palette of colour blended together — hydrangeas, roses, azaleas, lots of climbers, jasmine, clematis and even some kiwi fruit, too," says Bruno.
Marysville came onto everyone's radar because of the horrendous Black Saturday fires. I asked Bruno what effects the fires had on the garden. "I saw the garden, which was like a lush raiforest, being consumed by the fires," he told me, "never believing there would be a single green leaf left. "We lost about 50 trees. Part of the garden lost the canopy that sheltered the ferns in the more established area of the garden where the cultivated plants resided. Only 15 per cent regrew, so about 1000 plants were replaced — with the help of many people. "Half of the azaleas survived, and some of the rhododendrons, most of the bulbs and half of the camellias. It was a great surprise to see the wild Brazilian rhubarb, known as gunnera, regrowing. What I most regret is the loss of the coral fern in the native part of the garden, which I considered to be a unique jewel; it's native to this area and very hard to replace or transplant."
Bruno doesn't just love his garden — he's passionate about it. "The more time I spend in the garden the more passionate I become," he says. "It is just incredible to see the variety of shapes in the leaves, the palette of colours, the scents … and to have the pleasure to be among this beauty with sweets from Julia's Lolly Shop [a Marysville shop destroyed by the fires, now reopened] in my hand." Of course, the garden is also the showcase for Bruno's sculpture. "Having the sculptures amid the beautiful nature is just a dream come true. It adds so much more life to my creations, too. We provide tours and tell our visitors stories of what the garden is all about."
Bruno is grateful for other people's interest in his garden. "I have had help from so many people who are passionate about the garden. Without them I would still be chopping wood, covered in black soot every night. I will be forever grateful to each and every one of them," he says. "A nursery in Sylvan generously donated more than 200 plants. Some of the trees were donated by a local nursery — they were available free to locals who had lost their gardens. What I also appreciated was families coming to the garden with gifts of plants, which they would plant themselves. One couple arrived with more than 50 hydrangeas and I was also able to obtain an excellent variety of mature maples and grafted trees for a really good price."
Bruno also received gifts of fruit trees, such as apple, peach and apricots, donated by a group in Warburton. Before the fires, Bruno had cultivated other quirky varieties of trees: there was the magnolia covered with realisticlooking plastic mangoes; then there was a lempear tree — a lemon tree covered with plastic pears. Currently he is still working the idea of developing a money tree. "The tree I enjoyed the most had potatoes on a tall native shrub, which confused people so much that they had to touch it," he laughs. "Of course, our claim to fame was our tea-tree, which was a tree covered with teabags, the only real one in Australia."
Bruno also has very interesting views on the environment. "I strongly believe this is part of a cycle and that our world is going through a dramatic climate change. In some way we are the lucky ones, having so much water here. No water, no life." Bruno prefers to buy organic fruit and vegetables when he can and grows his own herbs and vegetables in season. He has a compost heap and waters only in the evening.
When Bruno first began his garden, it had only 15 life-size terracotta sculptures. Today it's home to more than 115, all on display for visitors. Despite the destruction by the fires and the painstaking task of finding every broken piece of sculpture and re-establishing the garden, Bruno's Art & Sculpture Garden is flourishing again.
Bruno's Art & Sculpture Garden is open to the public: 51 Falls Road, Marysville, Victoria. For more information visit www.brunosart.com
Bruno's tips
Be sure your soil is of high quality

Make sure you have enough worms in your soil, not in your body

Make sure your friends remove all the weeds

Don't use pesticides — use natural methods